How to earn the McAfee SECURE certification and show your site is safe
The McAfee SECURE certification is now TrustedSite Certification. TrustedSite Certification includes an extended portfolio of earned certifications and trustmarks that help alleviate even more concerns of online shoppers. Explore the new features here.
With more and more consumers becoming victims of identity theft, data breaches, and phishing, we recently surveyed 600 US-based consumers to get a better understanding of what concerns they have when shopping online and how those concerns impact their purchasing decisions.
We found that when first arriving at an unfamiliar site 40% of consumers have concerns about the site infecting their device with viruses and malware. And as a result of this concern, 23% of consumers have abandoned a purchase.
Consumers don't want to shop on sites that could potentially compromise their device or personal information. To help ecommerce sites stay protected and show visitors they are safe to shop at, TrustedSite offers the McAfee SECURE certification.
When sites earn this certification they can display the McAfee SECURE trustmark, showing visitors that a global leader in online security ensures their session is secure. With this reassurance, shoppers can complete their purchases with confidence.
The McAfee SECURE certification is one of the many trust-building tools included with TrustedSite Pro. Continue reading to find out how to earn the certification and start building trust on your site.
Certification Snapshot
McAfee SECURE
What it does
Addresses concerns about malware, viruses, and phishing by leveraging a globally recognized name in online security.
How to earn it
To get the McAfee SECURE certification for your site sign up for TrustedSite Pro and pass a weekly security scan.
Where to display it
Place the Secure Checkout trustmark near credit card forms on checkout pages
Your TrustedSite certification modal and page will show that your site has earned this certification.
To earn the McAfee SECURE certification, sites must first sign up for TrustedSite Pro. Once registered, sites must then pass an initial scan that checks for security issues. The site will pass the scan if:
No malware or malicious links are found
The site is not Google blacklisted
The site is not a phishing site
The site is not an attack site
The site is not a compromised site
After the initial scan, sites must pass a weekly security scan to maintain the McAfee SECURE certification.
Sites that have earned the McAfee SECURE certification can display their secure status with the McAfee SECURE trustmark. We recommend placing this trustmark in two places on ecommerce sites.
First, place the trustmark in your site footer as this is where 30% of shoppers say they search for information about a site's security policies and practices according to our recent survey of 600 US consumers. When new or unfamiliar visitors see the McAfee SECURE trustmark in your footer, they'll feel safe to continue shopping knowing that a leading online security company has not found viruses or malware on the site.
With TrustedSite Pro, sites are able to earn both the Certified Secure and McAfee SECURE certifications, so many sites also place the TrustedSite Certified Secure trustmark alongside the McAfee SECURE trustmark. This enables sites to leverage the brand recognition of McAfee, while also taking advantage of the full suite of trust-building features that TrustedSite offers.
Many sites place the Certified Secure engagement trustmark along with the McAfee SECURE trustmark in their site's footer.

Another best practice is to place the McAfee SECURE trustmark on your site's security policy page. The most security-concerned visitors will check this page to see how your site handles their data and what precautions you take to protect it. Displaying the McAfee SECURE trustmark can help show these visitors that you are actively working to keep your site secure.
When visitors click your McAfee SECURE trustmark, your McAfee SECURE certification modal will open so they can see additional information about how you earned it. Your McAfee SECURE certification will also display in your list of certifications on your TrustedSite certification modal that opens whenever users click your TrustedSite trustmarks.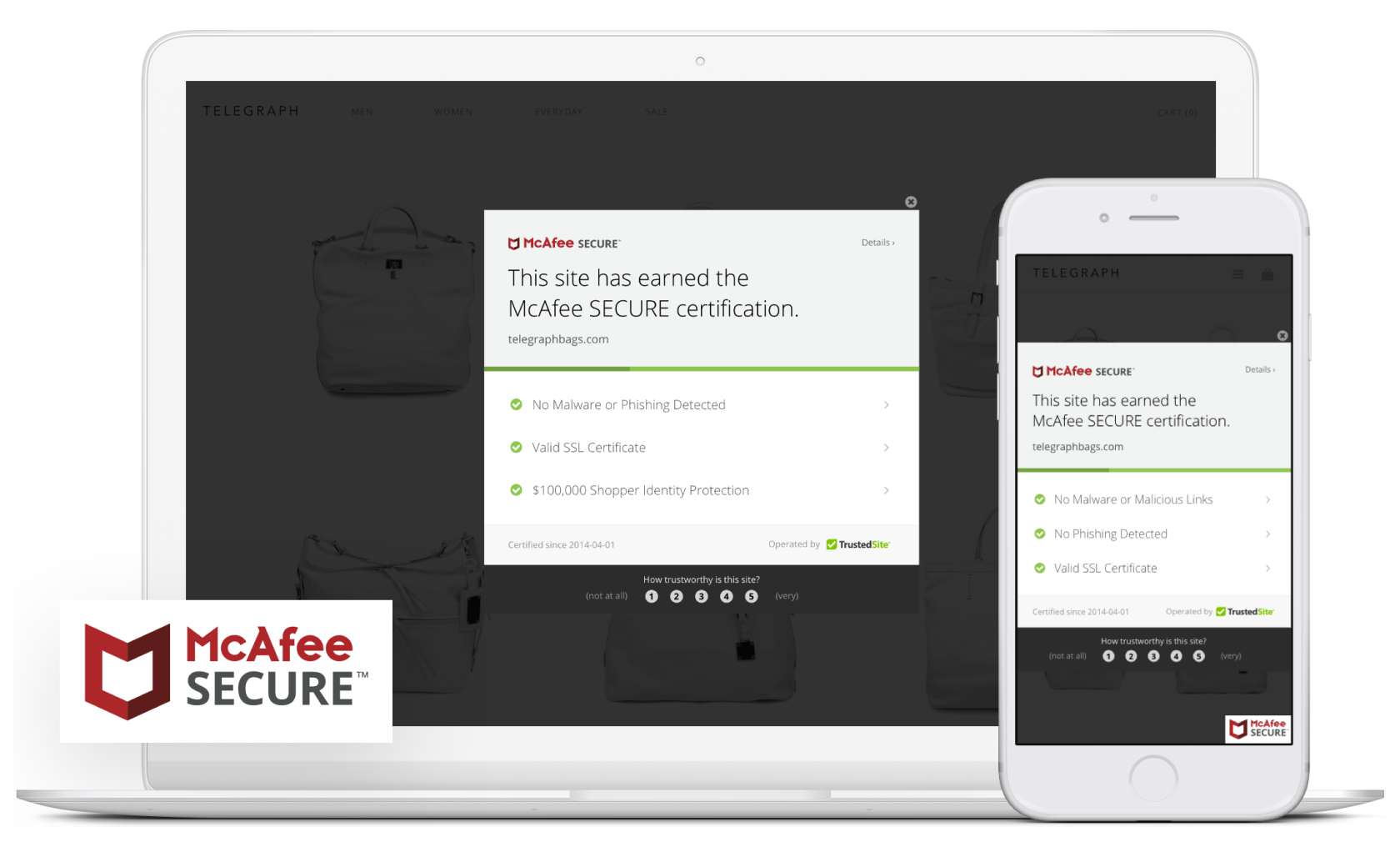 Another benefit of earning the McAfee SECURE certification is that it helps you stand out in major search engine results. McAfee SECURE certified sites are automatically highlighted in search results for millions of McAfee® WebAdvisor users, helping them find sites they feel comfortable doing business with.
Earning the McAfee SECURE certification and displaying it across your site is one step on the path to building visitor trust and boosting sales with TrustedSite. Learn how to build trust even further with our TrustedSite Certifications Explained blog series.