McAfee SECURE certification now includes Identity Protection for your buyers
The McAfee SECURE certification is now TrustedSite Certification. TrustedSite Certification includes an extended portfolio of earned certifications and trustmarks that help alleviate even more concerns of online shoppers. Explore the new features here.
Today, we're excited to announce that McAfee SECURE Certification Pro sites can now give their buyers free Identity Protection. Now you can address one of the top concerns of internet users by adding another layer of protection to your McAfee SECURE service.
Give your customers another reason to buy.
Because internet users are so worried about online security (almost 9 in 10, according to a 2013 survey), any indications that you're making their security a priority is going to sit well with them. You already have McAfee SECURE certification, which eases their concerns before they buy. And now with Identity Protection, you're able to:
Make customers feel safe *after *they buy as well
Show customers you care about their security
Boost conversions by turning on-the-fence shoppers into buyers
Build customer loyalty by giving them free identity theft insurance
And from a consumer perspective, Identity Protection is completely free. That's right. Just because they bought from your site, they're protected for up to $100,000. All they have to do to get it is take 2 minutes to activate the service. What's a consumer not to like about buying from you?
So what exactly is Identity Protection?
Identity Protection is a type of insurance that, in the unfortunate but all-too-common event of identity theft, helps your customers cover the costs associated with getting their lives back. Once they enable the service, they're protected forever.
Why is this a valuable service?
Because even if your site already has security features like an SSL certificate and McAfee SECURE certification, identity theft can still happen. Consumers know this, and want to be protected from this worst-case scenario.
Some facts about the cost of identity theft, from the Department of Justice, might be useful here:
More than 17 million Americans suffered identity theft in 2014
14% of victims reported an out-of-pocket loss (i.e. the cost wasn't covered)
Of those reporting a loss, roughly half lost more than $100, and 14% lost more than $1,000.
Here is what is covered by Identity Protection (it's a lot).
Any legal costs for up to $100,000
Up to $5,000 for any fraudulent withdrawals from bank accounts
Up to $3,000 dollars for child and elderly care, plus up to $3,000 in any loss of income
Up to $1,000 for any traveling expenses, and up to $1,000 for replacing documents
Here's what you need to do
Giving Identity Protection to your customers is super easy. All you need to do is add an extra line of code to your site's purchase confirmation page. This code allows us to send them an email containing the insurance certificate they need to file a claim. The code looks like this:
You'll also want to add a single line of code that will add an engagement kicker. The kicker will let visitors know that if they buy from you, their identities will be protected. That's why it's a good idea to put it anywhere you want more conversions — like product pages, in the shopping cart, and near credit card forms. The kicker will look like this:
The line of code that lets you add the kicker is simple. It looks like this:

Your verification page will also reflect the change: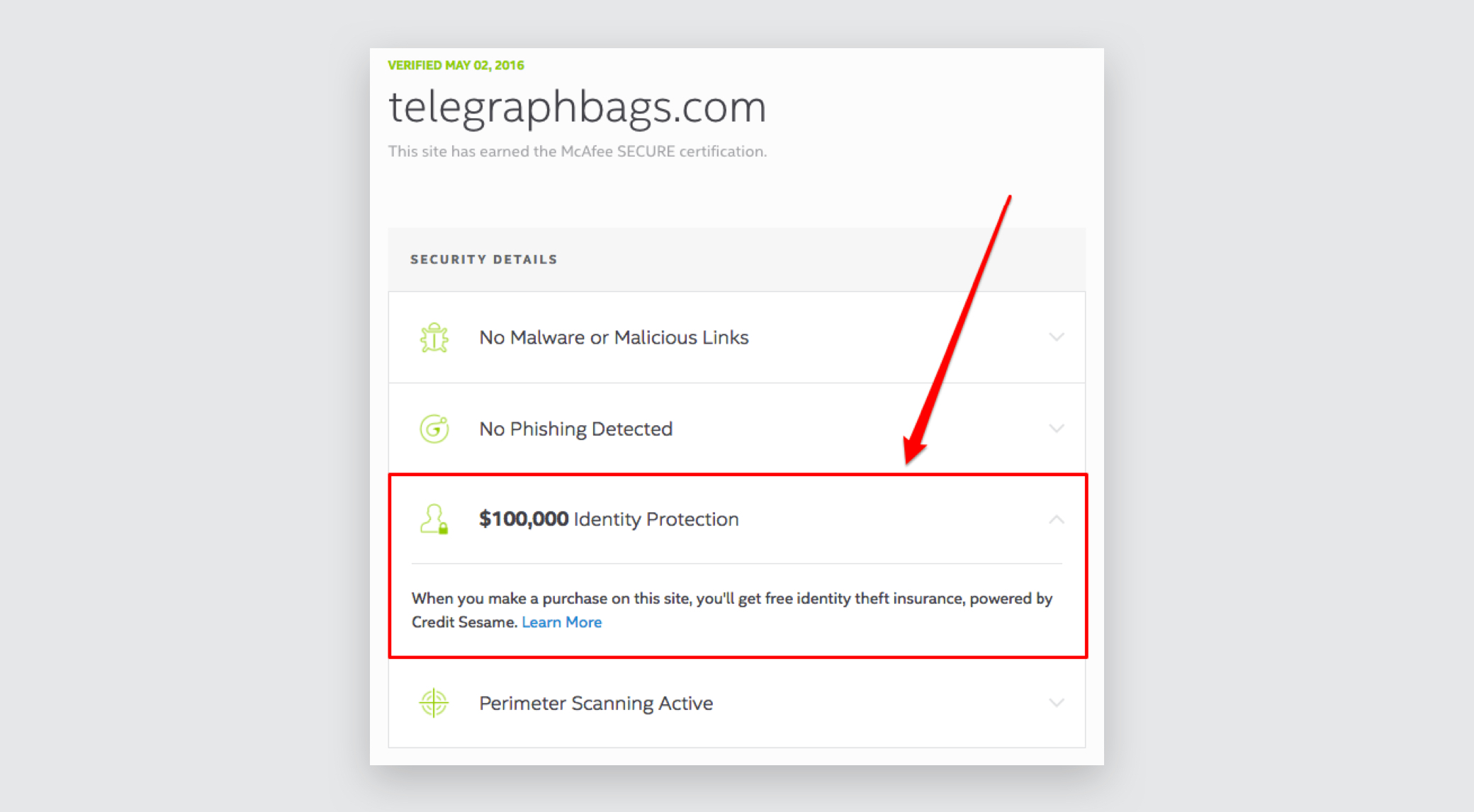 Once you've installed the code snippets, you're done! After a customer makes a purchase on your site, they will now receive an email from you informing them of their coverage, and they'll feel more confident making future purchases, making you more money.
If you're a McAfee SECURE Certification Pro user, increase your conversions and sales by adding Identity Protection to your site today.
Are you a Lite user? Upgrade to Pro now.