What is costing your site sales?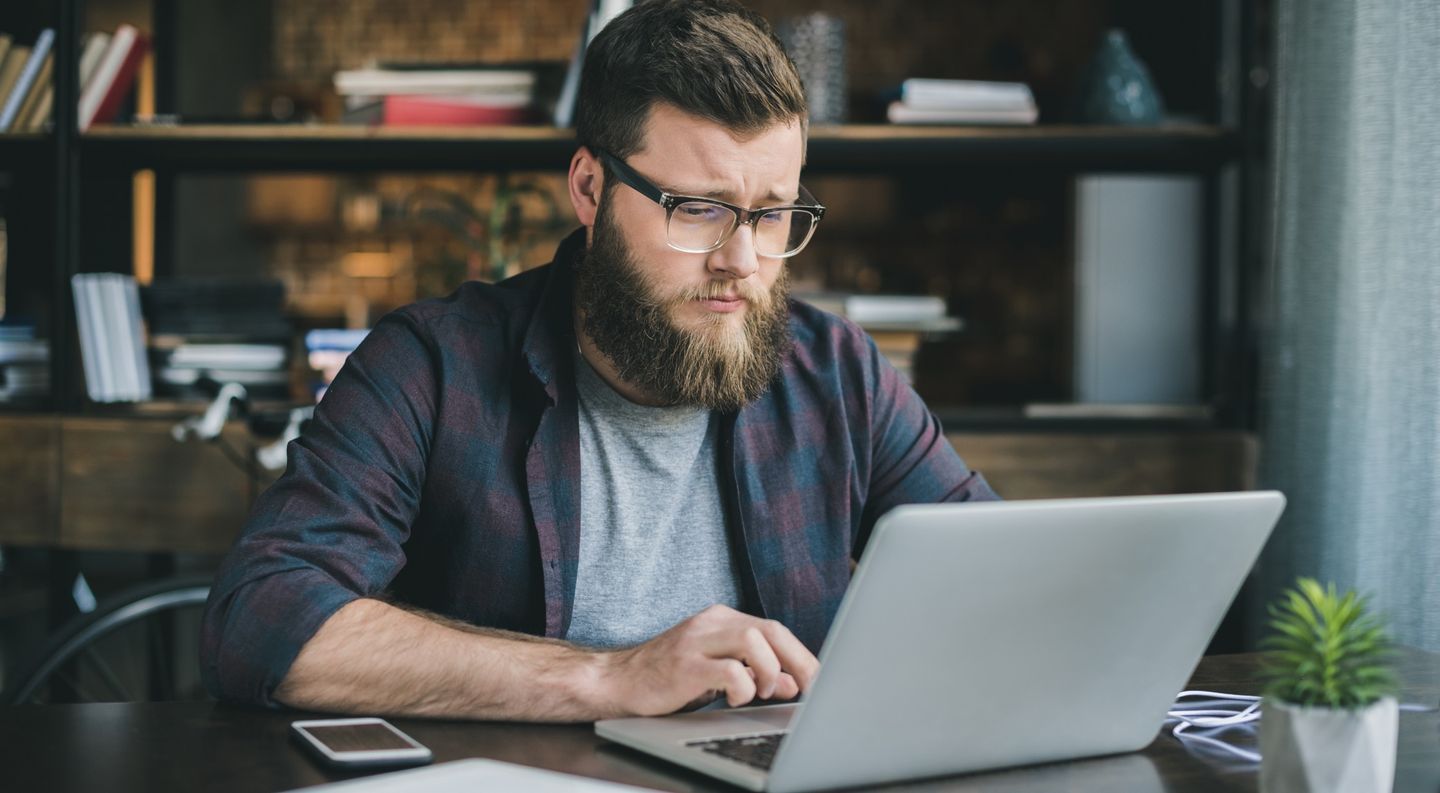 Shopping cart abandonment is one of the biggest sources of loss for online retailers. According to 2018 data, shopping cart abandonment rates are at an alarming 69% across the ecommerce space.
As you probably don't need to be to be told, this high abandonment rate causes all online retailers a lot of pain. There are a number of reasons why customers decide to leave their carts mid funnel, and we've highlighted five of them—plus tips on what you can do to fix them.
1. They were hit with unexpected costs
Picture this: A shopper is on your website, finds an item they like, considers the price, and decides to make a purchase. However, once they arrive at your checkout, they see their total price increase thanks to surprise costs costs like shipping and taxes. This frustrates and angers the shopper, ultimately causing them to leave your website without completing a purchase.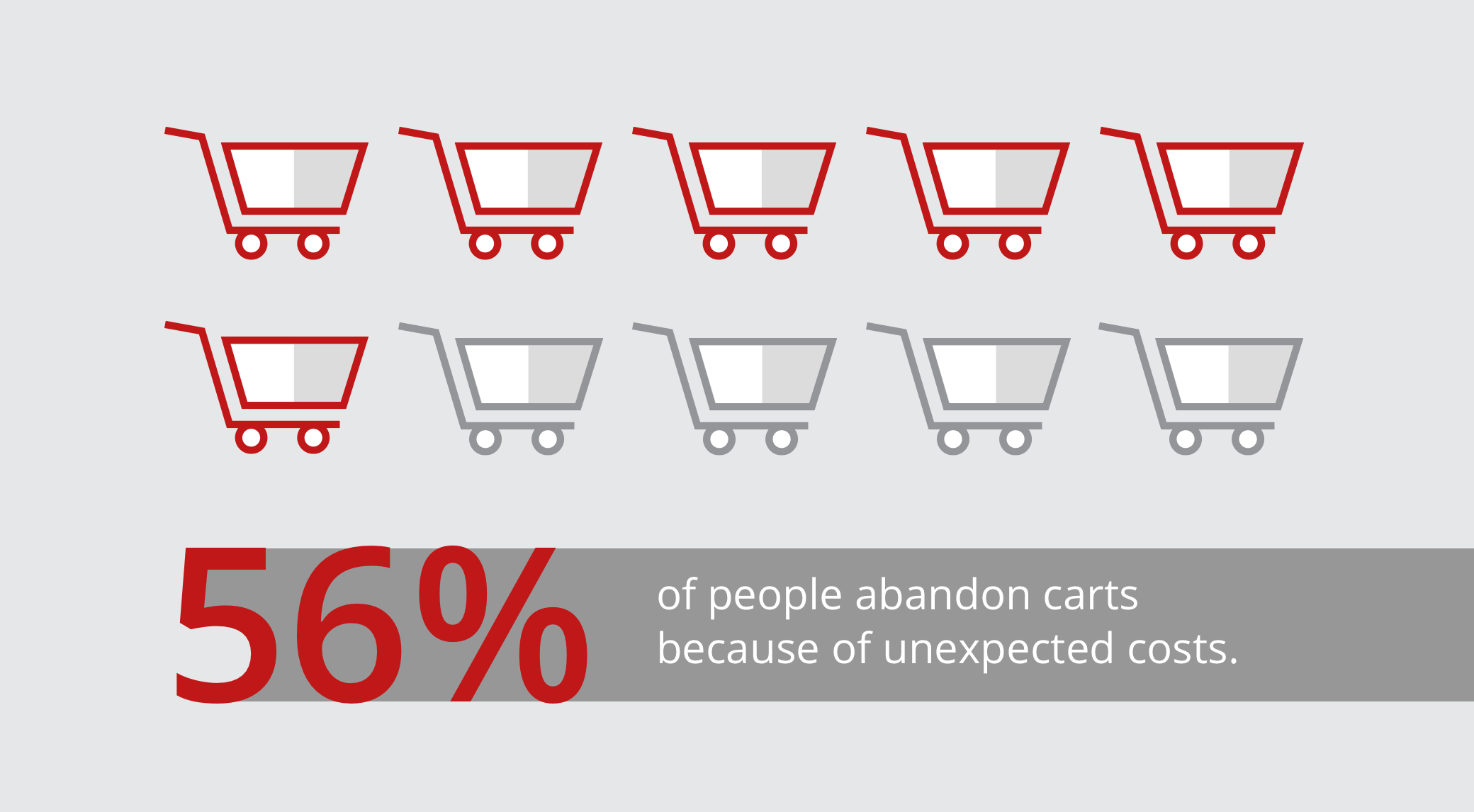 According to Shopify, 56% of consumers cite unexpected costs as the reason they leave a website without completing a purchase—the number one reason by far.
The takeaway: let your customers know all costs upfront so they won't be surprised at checkout.
Consider adding a shipping calculator to your checkout so your buyers can input their zip code to preview the price of shipping. Or, offer free shipping, which 73% of consumers say is "critical" to getting them to make a purchase.
2. They had concerns about security
The Baymard report found that around 19% of shoppers abandoned their carts because they didn't trust the site with their financial information. Obviously, a significant portion of shoppers don't want to risk having their credit card info, home address, and other contact info floating around the web, and that's only natural.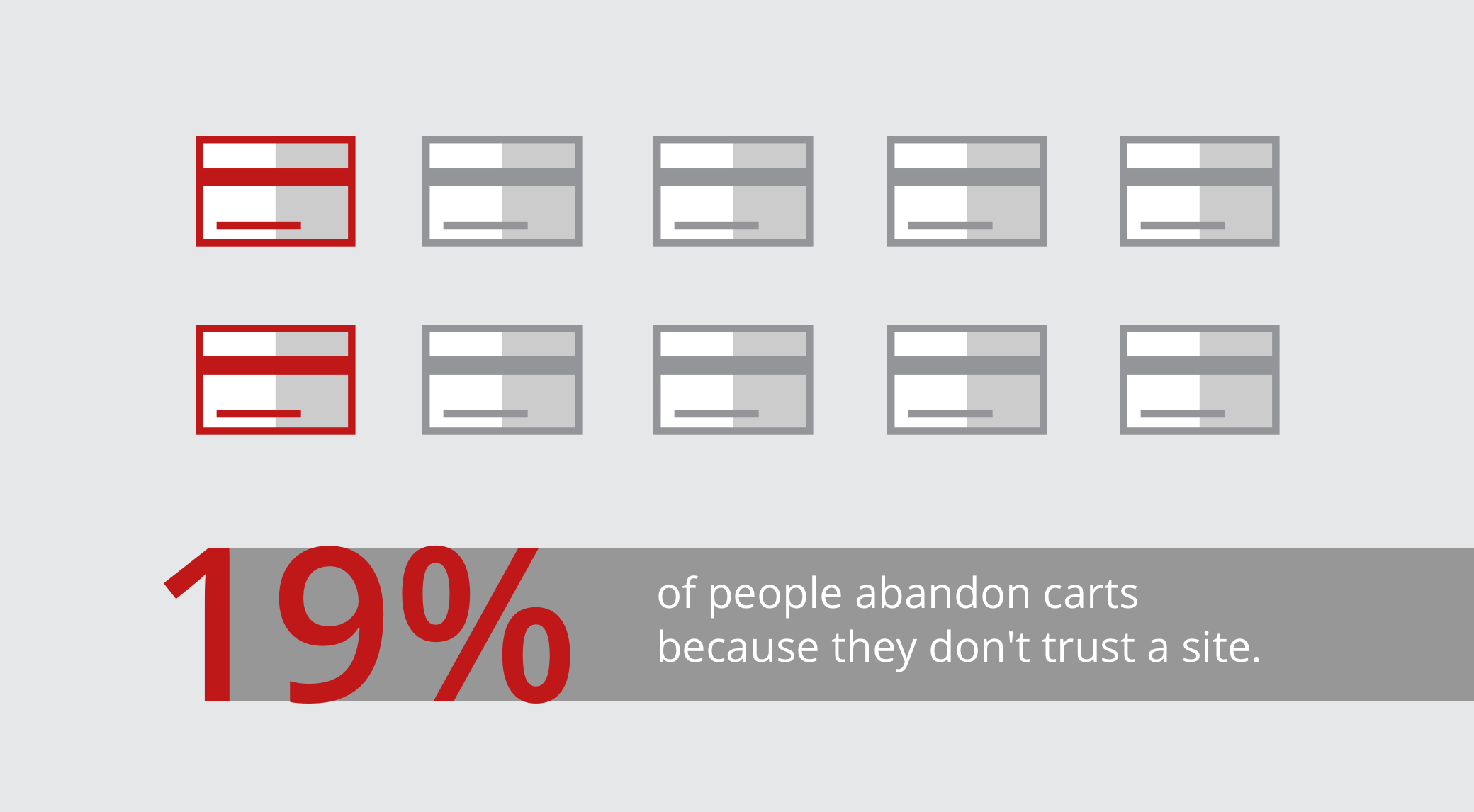 So how can you prove to customers that they don't have to worry about security issues?
A trust seal.
A case study conducted by Conversion Fanatics found that trust seal resulted in a 28.2% increase in conversions among new customers, a 19.2% increase in successful orders, and a 71.1% increase in revenue per visitor. Yeah, you read those numbers right.
But which one to choose out of the well known brands? Inflow, a conversion rate optimization firm, ran a test on trust seals and the McAfee SECURE trustmark performed the best: "We've learned that the McAfee seal is—at the moment—the most likely to increase conversions and the one we use most on client sites."
3. They found a better price elsewhere
One of the biggest challenges in ecommerce is getting undercut. There's always a possibility that someone finds something they like on your site, then search around for a lower price elsewhere. In fact, that's why 36% of customers report they abandoned carts: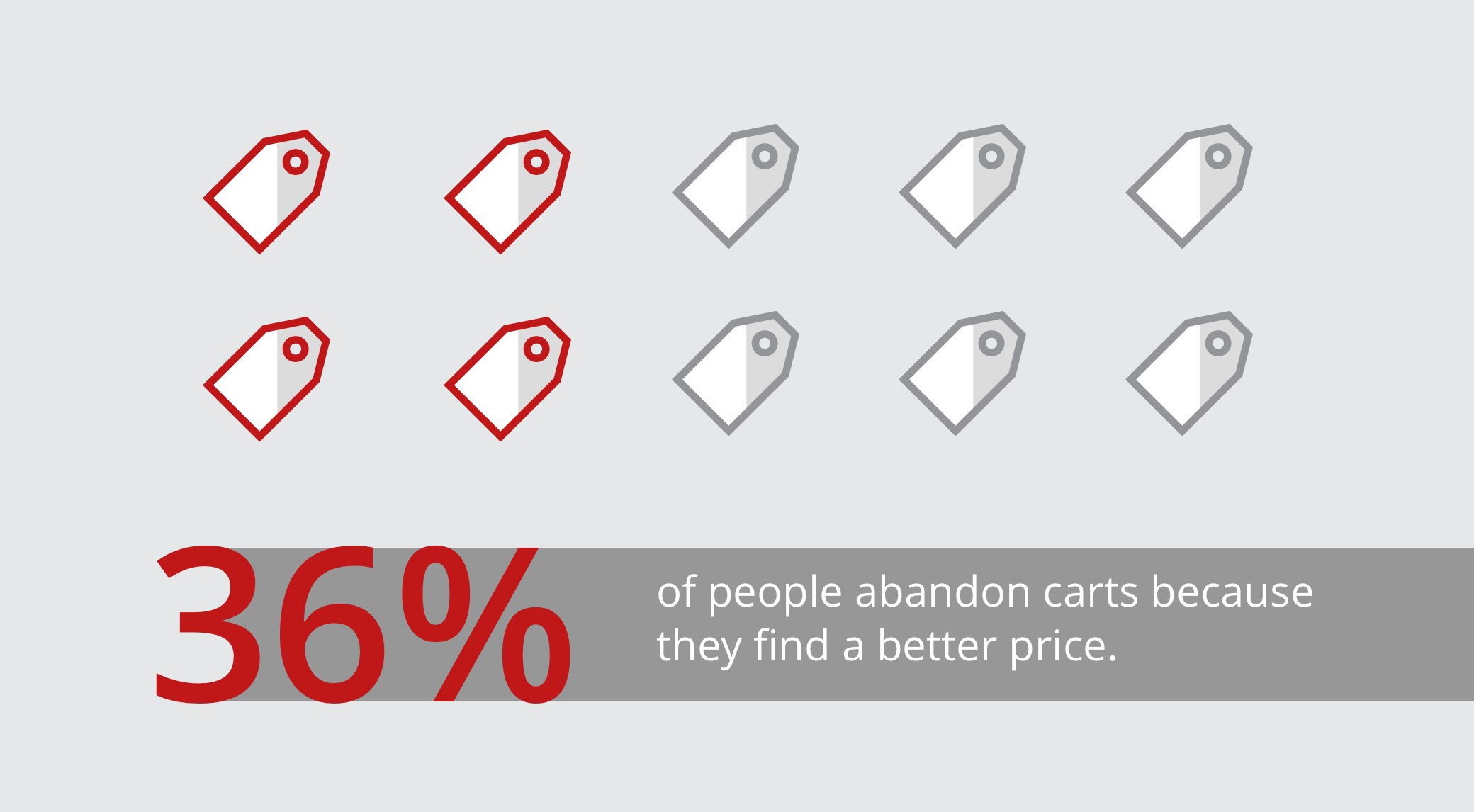 The best way to reduce the likelihood of people shopping around is to offer a price match guarantee.
If you're on a platform like Shopify, you can find apps that will help you match prices. Or if you're handy with design tools (or have a designer on staff), you can create a small badge that says you'll pay the difference if your customer finds it for cheaper elsewhere.
Stick it in your basket view, and chances are (as in, 90% or more), buyers won't bother to shop around after they've already bought the item. But by adding this feature, it will give shoppers peace of mind, helping them make their decisions right then and there.
4. The checkout process was taking too long
It's stressful and time-consuming enough having to find the right item, read reviews to make sure it's legit, and decide to buy. That's why it's no surprise that 28% of people say they abandon their cart when it takes too long or is too complicated, according to Baymard.
Use a progress indicator during your checkout process to keep customers informed. If they can see how many steps are left to finalize their purchase, they are less likely to abandon their cart.
But you can improve the process even further by requesting only essential information. Online shoppers know what information is required in order to complete a purchase—don't waste your customers' time by asking for unnecessary and personal info. This will only annoy them, and increase the likelihood of cart abandonment.
Case in point: 22% of people abandon their carts because they are asked to create a new user account.
Remember: the less you ask for, the more likely they will be to buy.
5. Your website navigation was too complicated
Website visitors only have so much patience when it comes to finding what they need. According to Statista, 25% of consumers will leave if they find your website to be too complicated.
If your website navigation makes it difficult for the customer to find basic information about your business, many visitors won't even make it past your landing page.
What can you do to fix this? Neil Patel suggests limiting your menu to seven items. Why? Because short term memory can only hold seven items. Too many options can distract or confuse users. By simplifying your navigation, you can help steer your customers in the right direction.
Also, consider removing elements of your website that have low click traffic. Analyzing your website using a heatmap tool like Crazy Egg is an easy way to indicate what people are clicking on.
Bottom line is to keep your website simple. As Neil Patel put it: "Simple websites work better, look better, feel better, act better, function better, respond better, appear better, and are better."
Wrapping up
Online retailers are losing money every day due to cart abandonment. There are a number of reasons why it happens and some of them are inevitable. But some of the others you can do something about. Put these ideas to work and you'll be well on your way to increase your store's sales.