How well-known brands use the McAfee SECURE service
The McAfee SECURE certification is now TrustedSite Certification. TrustedSite Certification includes an extended portfolio of earned certifications and trustmarks that help alleviate even more concerns of online shoppers. Explore the new features here.
The McAfee SECURE service is used by hundreds of thousands of businesses, from new stores that just set up on Shopify yesterday, to companies like Jelly Belly, which has been around for 120 years and is the number one brand in its industry.
In this piece, we're going to focus on our largest users, and how they implement the McAfee SECURE service.
Why the emphasis on the most well-known brands? Because they often have the time and resources to effectively A/B test their service, and their chosen implementations usually are the ones that generate the highest number of conversions.
Let's take a look at how they do it!
Inline trustmark, checkout page or cart
One of the most common places our biggest brands use the service is the checkout page. Their customers have found something they liked, and now they need to be convinced to pay for it.
Take a look at the checkout page of Party City, a chain that sells party supply items: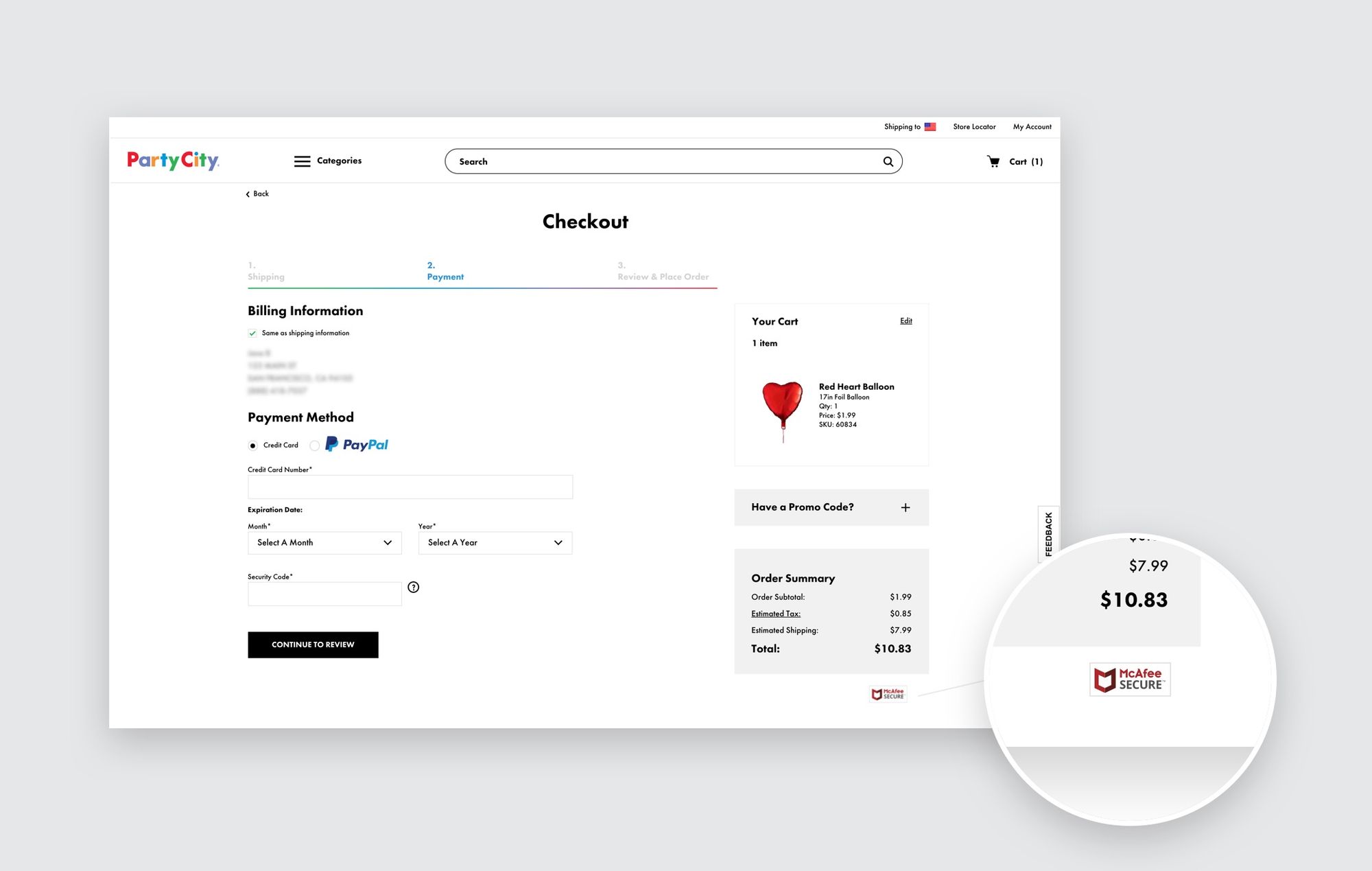 They place the inline (non-floating) trustmark right below the price in the cart, where peoples' eyes tend to be drawn. Because this is a decision point for consumers, Party City is reminding them that their personal information won't be compromised if they decide to buy. It's a great way to eliminate a reason people say " no" before they can really consider it.
Here's another example from the store at The Met, the famed art museum in New York: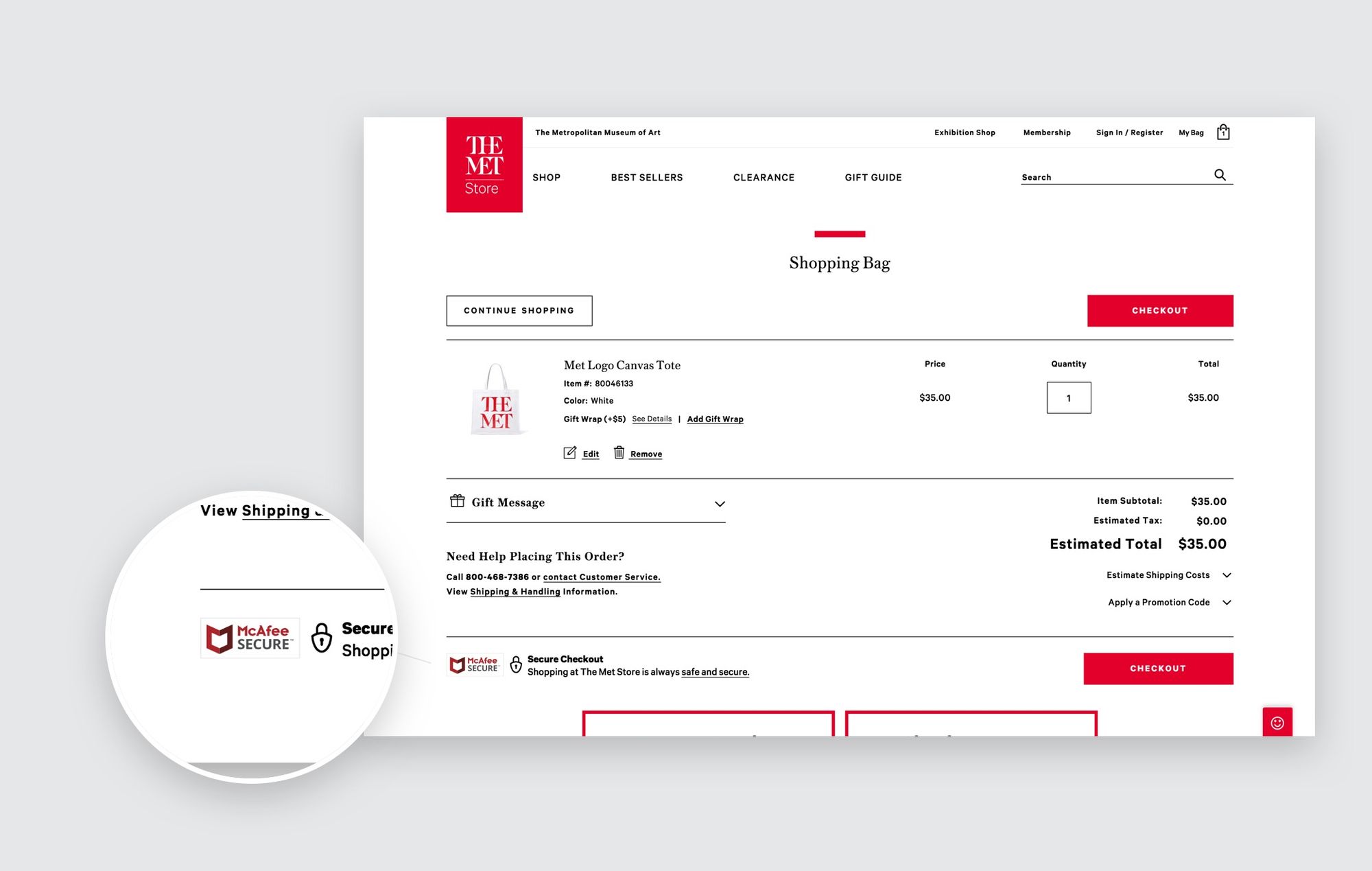 The Met uses the same inline trustmark as Party City, but in a slightly different place. They put it in the cart, before the consumer has entered the checkout. Most importantly, they pair it with text that expressly lets the customers know they're safe—letting the McAfee SECURE brand and their words work together.
Another instructive example for trustmark placement is the site of Guess, the fashion retailer: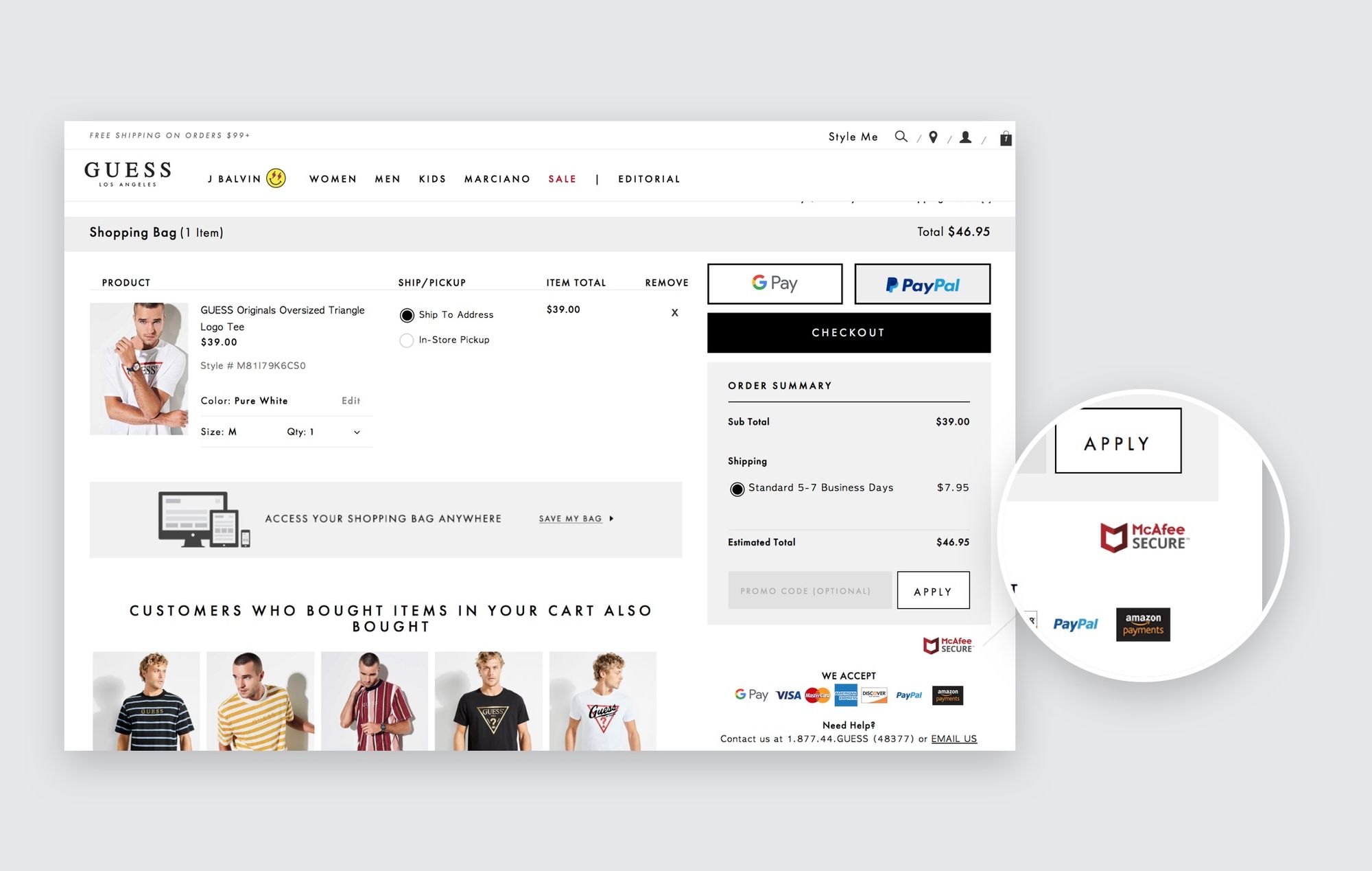 They place the trustmark directly above the box with the credit card icons, which makes people associate payment with security.
Guess does this on their mobile site, too: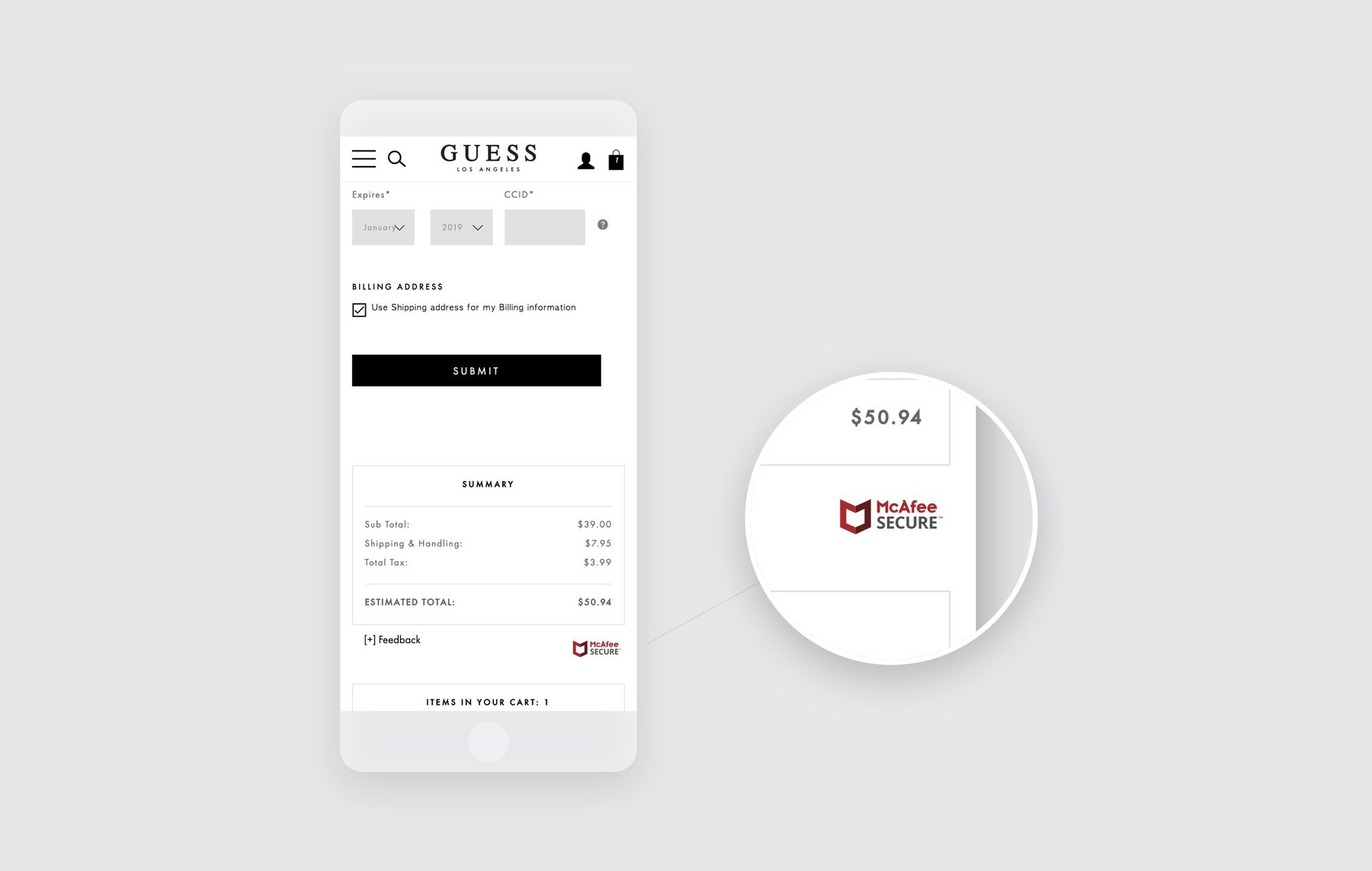 Inline trustmark, footer
It's become standard practice to include any third-party seals, such as Google Reviews, an SSL badge, and yes, the McAfee SECURE trustmark, in a site's footer.
Here's how Petco, one of the biggest retailers of pet food and products, does it: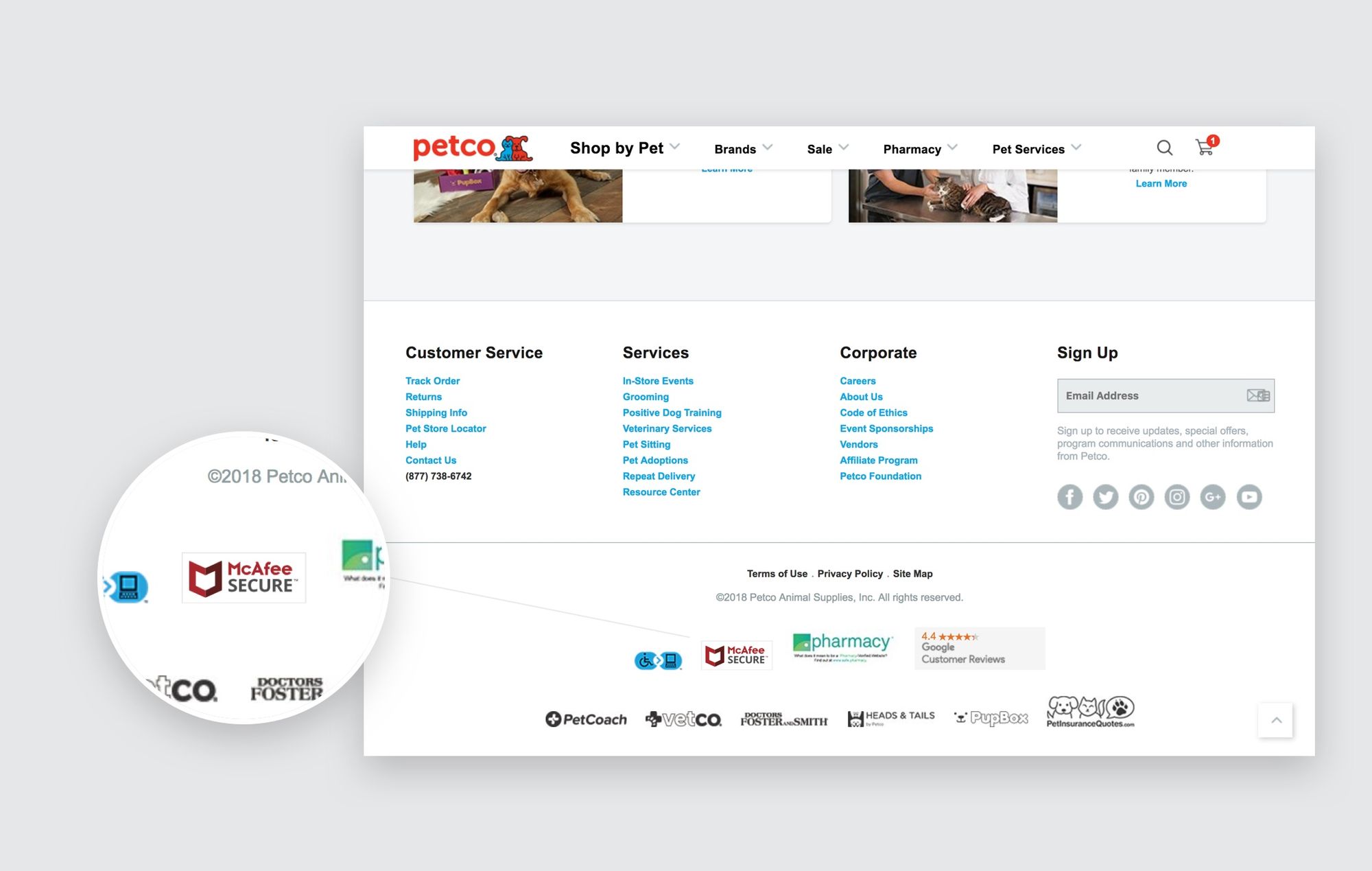 By placing the McAfee SECURE trustmark next to other badges that customers know—about their good reviews on Google and their safety in buying medicine for their pets—Petco associates their brand with reliability and trustworthiness.
Floating trustmark, everywhere
The floating trustmark is a popular option with sites who want to continuously establish and build visitor trust.
Take Lids, a site that sells fan athletic apparel, for example. Where ever you go on Lids, from its homepage to its product pages to checkout...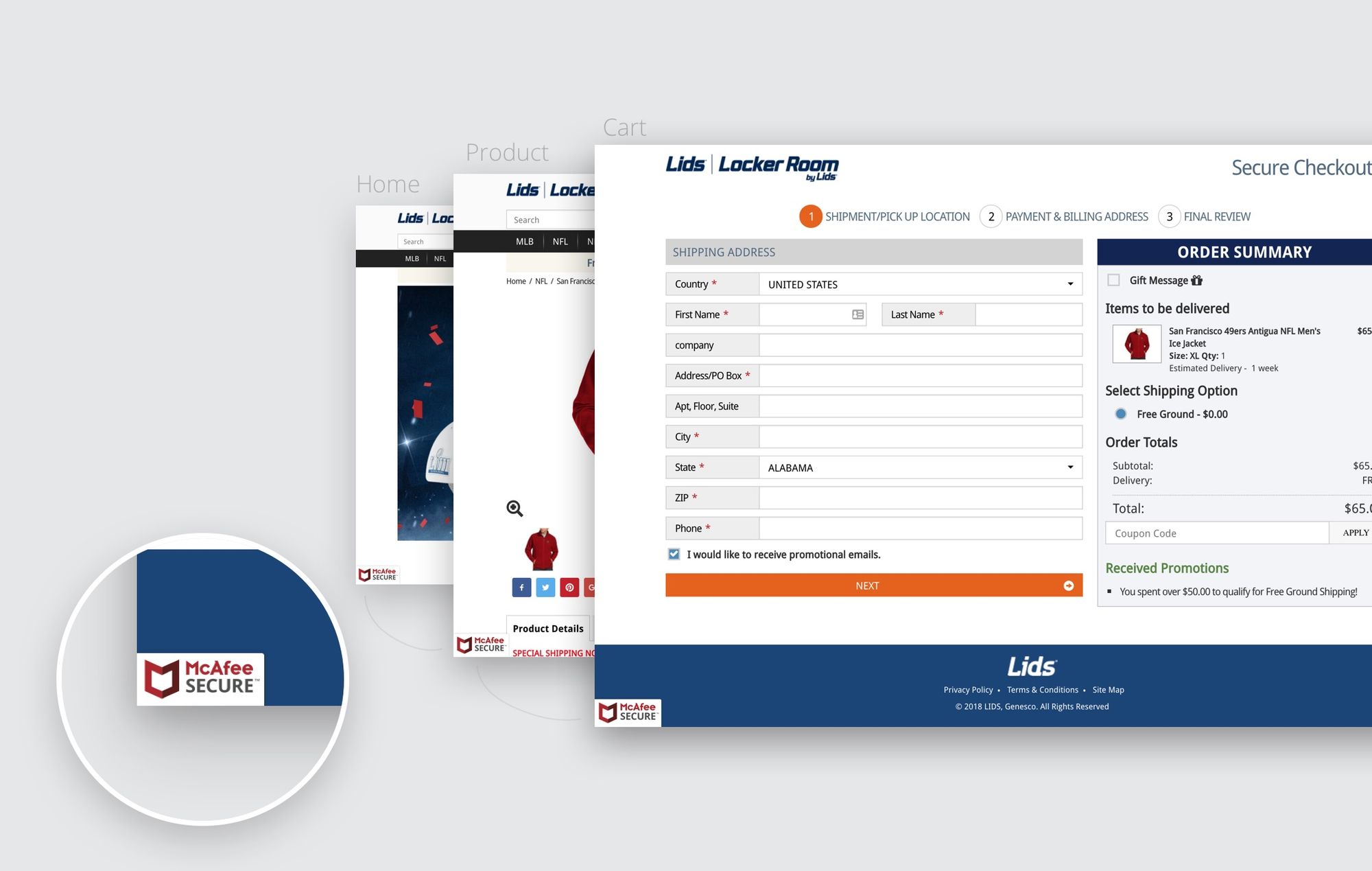 ...you'll see the McAfee SECURE trustmark. The constant presence of a well-known security brand reassures the most security-concerned customers that the site is trustworthy, and their personal information is secure.
Shopper Identity Protection trustmark, checkout page
The Shopper Identity Protection trustmark is a specialized form of the inline trustmark that lets visitors know that if they buy something from a site displaying it, and their personal information is later compromised, they will have coverage for it.
Here's what it looks like on BattDepot, a retailer of batteries and other electronic components: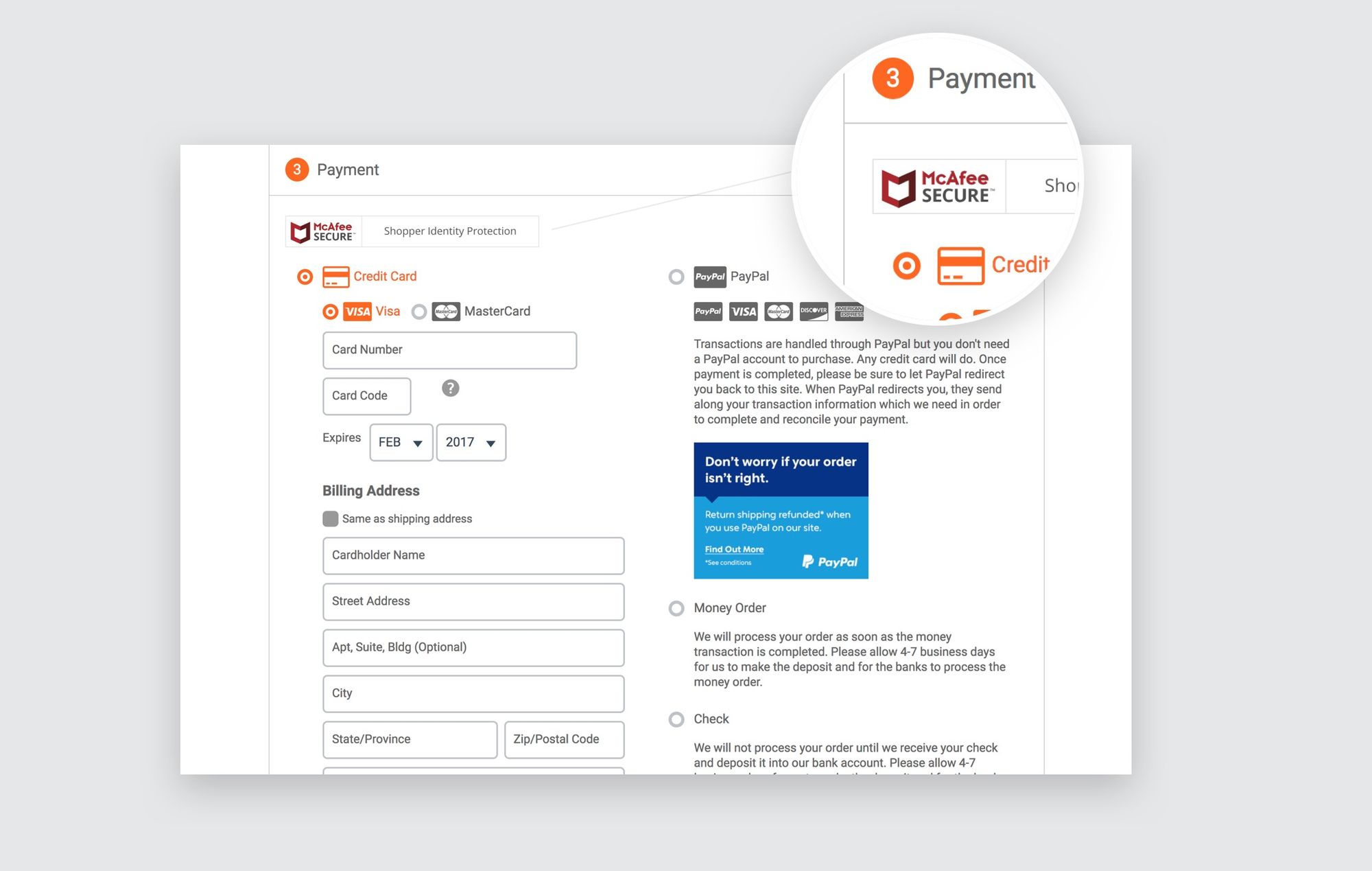 Because identity theft is the number one concern of shoppers online, this trustmark acts like a safety net for consumers—even if the worst happens, it still won't be that bad. Your coverage will handle it.
Wrapping up
Don't hesitate to contact your customer care representative if you have questions about implementing the service in any of the following ways.