How to offer TrustedSite Shopper Identity Protection and reduce customer concerns about identity theft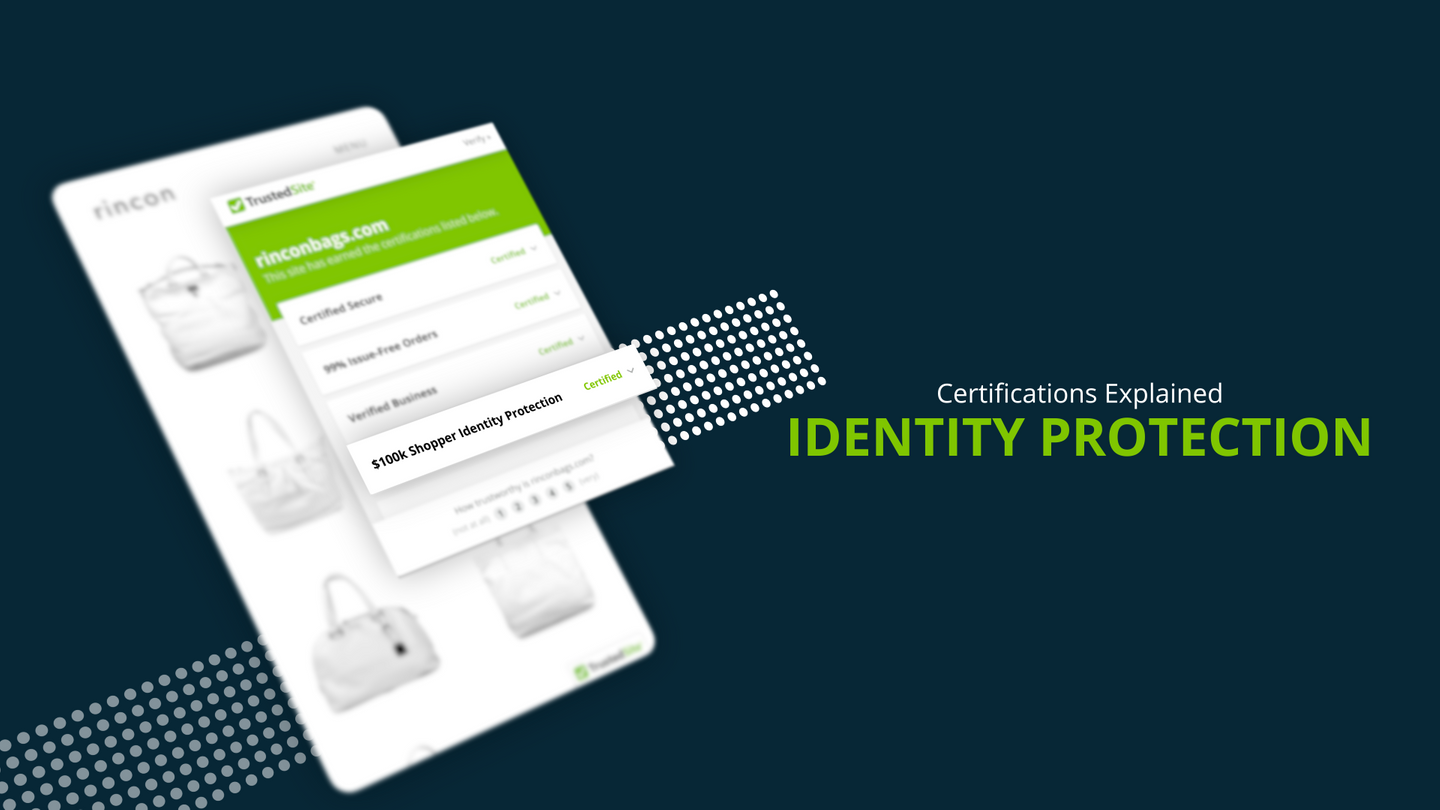 With each passing day, cyber criminals are becoming more sophisticated and making it harder for consumers to tell the difference between real businesses and scams. As a result, nearly $17 billion dollars were lost to identity fraud in 2019.
It comes as no surprise that concerns about identity theft have become more prominent among online shoppers. In 2020, over 84% of consumers said they are concerned about identity theft when shopping online–a 14% increase since 2018.
Unfortunately for ecommerce businesses, concerns about identity theft can create friction throughout the buyer's journey and lead many visitors to drop off before making a purchase. In fact, at least 28% of consumers have abandoned a purchase for this very reason according to our survey of 600 US-based consumers earlier this year.
TrustedSite can help ecommerce sites alleviate visitor concerns about identity theft with the Shopper Identity Protection certification. Sites that offer Shopper Identity Protection can display the TrustedSite Identity Protection trustmark in key places where concerns about identity theft are strongest, such as the checkout. This trustmark shows customers that if they were to experience identity theft within 90 days of making a purchase, they may be eligible to receive up to $100,000 towards the costs associated with identity restoration. It's one more way to show you care about your customers and encourage repeat purchases.
Certification Snapshot
Shopper Identity Protection
What it does
Addresses concerns about identity theft and data protection by showing qualified customers that they are covered with $100,000 Shopper Identity Protection.
How to earn it
To get TrustedSite's Shopper Identity Protection certification for your site sign up for TrustedSite Pro and set up conversion tracking and opt-in method.
Where to display it
Place the Identity Protection trustmark on shopping cart and checkout pages.
Use the banner trustmark on product pages.
Your certification modal and page will show that your site has earned this certification.
To offer Shopper Identity Protection, sites must meet certain requirements. First, sites must sign up for a TrustedSite Pro account. Next, sites need to install the conversion tracking code and select a method for customers to opt-in to the coverage.
Sites have three opt-in methods to choose from: modal, slide up, or automatic. With the modal opt-in, a window will pop up on the order confirmation page after a customer makes a purchase. With the slide up opt-in, a window will slide up from the bottom of the order confirmation page after a customer makes a purchase.
Customers who wish to opt-in can input their information into the modal or slide up window and then activate their coverage. Once complete, an email will be sent to the customer with coverage details and a link to file a claim in case they experience identity theft within 90 days.
With the automatic opt-in, customers are automatically sent an email with coverage details and a link to file a claim after completing a purchase.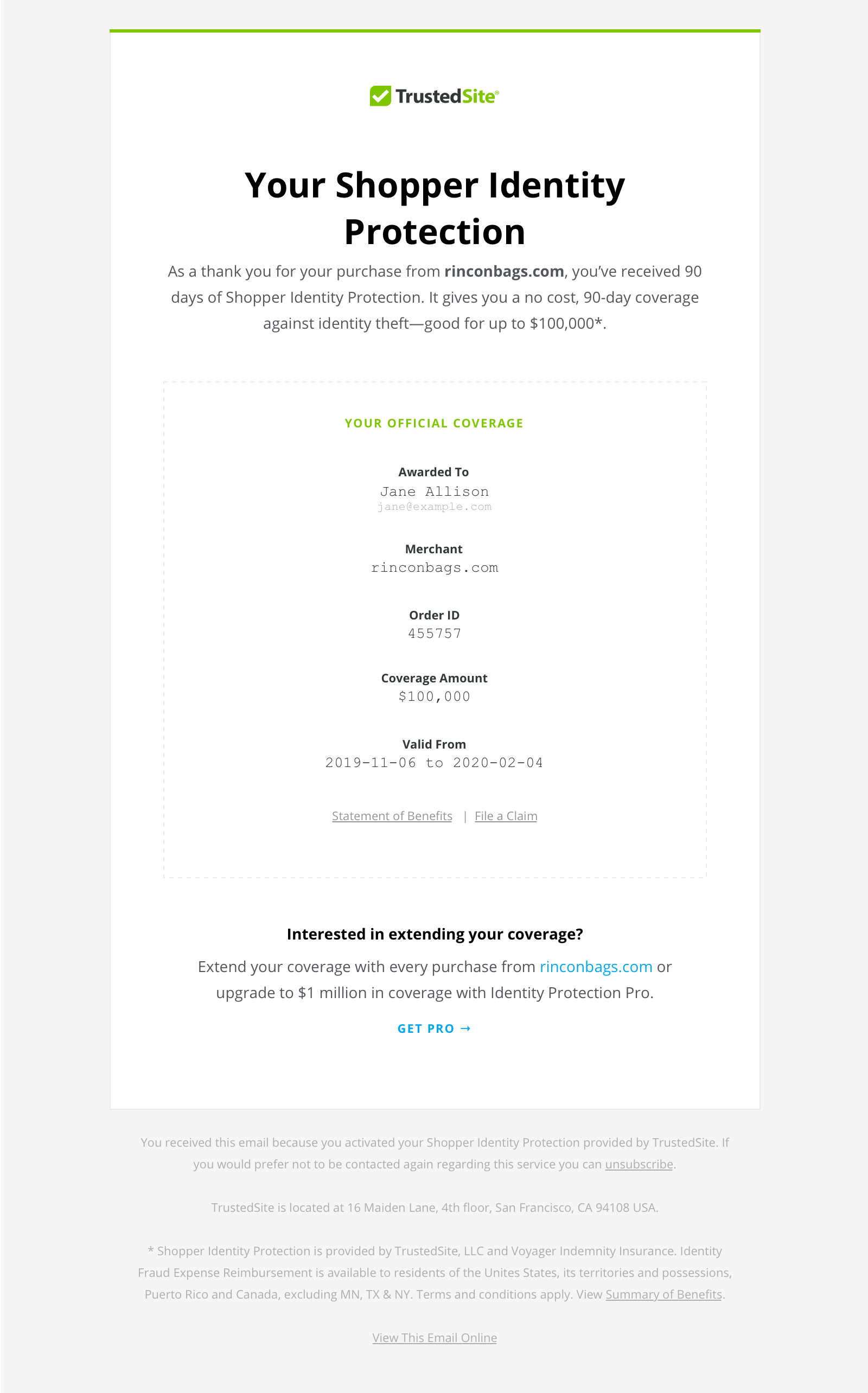 To be eligible to receive Shopper Identity Protection, customers must be residents of the United States, its territories and possessions, Puerto Rico and Canada, excluding MN, TX & NY. If your site has enabled Shopper Identity Protection, visitors who reside in locations outside of those places will not be shown the modal or slide up opt-in windows on the order confirmation page.
If your customers do experience identity theft within their coverage period, Shopper Identity Protection has them covered even if their personal information wasn't stolen through your site. If your customer makes multiple qualifying purchases through your site or another site that offers Shopper Identity Protection, they will be eligible to receive their benefits for 90 days from their most recent purchase. Multiple purchases cannot be combined to extend benefits for longer than 90 days.
Sites can show visitors that they offer Shopper Identity Protection with two TrustedSite trustmarks. We recommend placing the Identity Protection trustmark in areas of the buyer's journey where identity theft concerns are likely to cause visitors to abandon their purchases. Since over 44% of consumers have concerns about their identity being stolen when asked for shipping information, we suggest placing the trustmark near this area of the checkout. Many sites have also placed the Identity Protection trustmark on the shopping cart page near the CTA button.
On shopping cart and checkout pages, visitors oftentimes have other concerns in addition to identity theft. To alleviate multiple concerns at the same time, sites can use the banner trustmark which displays multiple TrustedSite certifications your site has earned including Shopper Identity Protection. This trustmark adjusts in size depending upon the width of its container, so it works very well with responsive page designs. The banner trustmark can also be useful to include on product pages.
Additionally, your site's certification modal and page show visitors that you offer Shopper Identity Protection and provide a link to additional details about coverage benefits.
Though there are many steps you can take to prevent a customer data breach, there are no guarantees when it comes to website security. Offering Shopper Identity Protection to your customers can give them peace of mind when shopping on your site. Knowing that they can receive $100,000 in the event of identity theft can greatly reduce their concerns and encourage more purchases on your site.
Shopper Identity Protection is another positive step towards building visitor trust and boosting sales with TrustedSite. Learn how to build trust even further with our TrustedSite Certifications Explained blog series.