What's new with TrustedSite Security | January 2021 Release Notes
To make attack surface management as efficient and thorough as possible, we're constantly using customer feedback to improve the TrustedSite Security service. We kicked off 2021 with a focus on giving you better visibility into your websites with the following features.
Track and monitor the scripts being used across your websites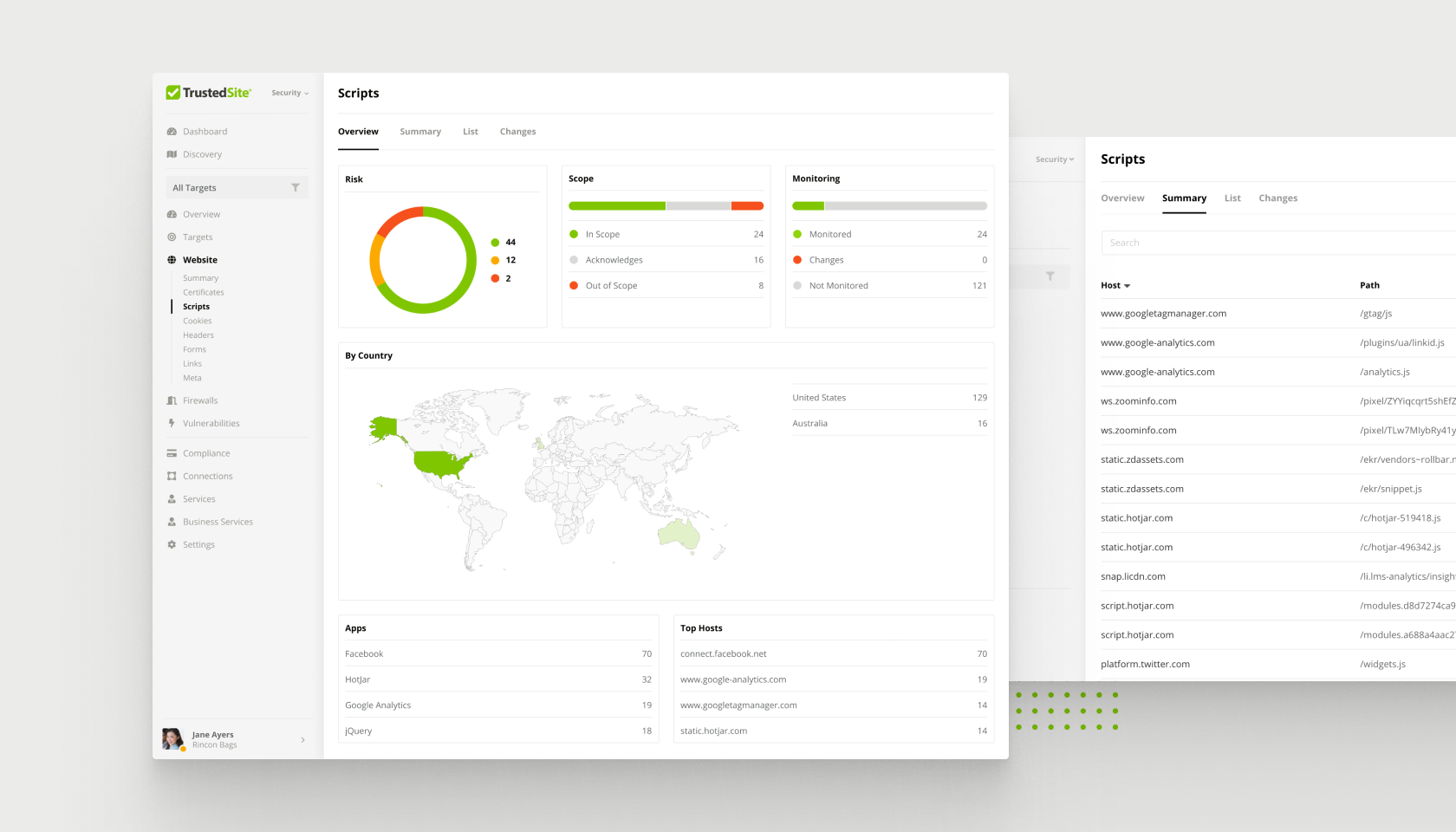 Websites today use lots of apps and third-party JavaScript, and it can be difficult for security teams to track these vectors of potential attack.
With Website Monitoring, you can now see and monitor all the scripts being used across your websites.
From the Scripts Overview page, you can see their relative risk and where they're coming from, helping you identify potentially worrisome usage. You can also see the apps, like Google Analytics, Hotjar, or Facebook, that are responsible for the scripts.
Like with cookies, you can easily acknowledge the scripts that you are comfortable with, and even monitor them and get alerted when the content changes.
From your account, you can easily see the script content and look back at which scripts have changed over time. We think you'll find it much easier to identify potentially risky JavaScript across your websites.
Get a centralized view of your domain registration information
With the new Whois section of the Website Summary page, you now have a centralized viewpoint of the registration details for all of your domains. You can sort the list by target name, registrar, organization, country, state, created date, expires date, and status.
Monitor cookies, headers, and scripts for changes
We've made it easier to monitor cookies, headers, and scripts changing across your sites. From the list views, you can easily select those you wish to monitor by clicking the eye icon. If the value of the cookie, header, or script changes in the future, you'll get an alert.
You can also bulk monitor or bulk acknowledge these elements by using the Pencil icon in the top right of the list views, selecting the elements, and using the "Checked…" dropdown at the bottom of the page to set monitoring, or acknowledge.
---
Questions about recent updates? Want to suggest an improvement? Reach out to your account manager. We're happy to answer any questions and help you make the most of the TrustedSite Security service. Stay tuned for additional updates coming next month.