Evaluating trust on cocofloss.com
This post is another installment of our Trust Evaluation series where we walk through the customer journey on different ecommerce sites and point out the trust signals we find along the way. Our goal is to help ecommerce managers learn how to look at their own sites from the perspective of a new customer, and find areas of friction that could be improved with the help of trust signals.
In this Trust Evaluation, I'll be taking a look at cocofloss.com. I came across the site when this eye-catching ad appeared in my Facebook News Feed.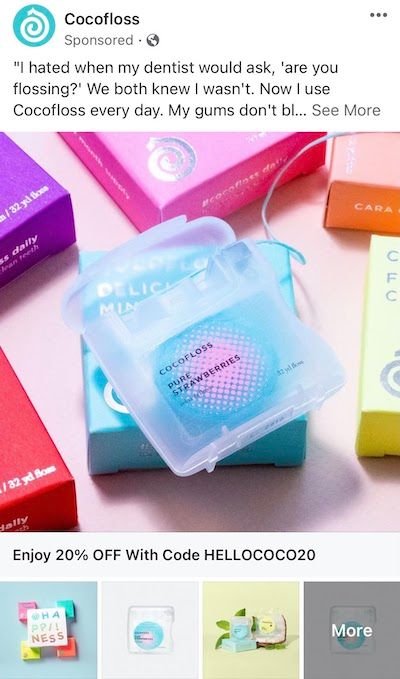 I'm someone who believes in the importance of flossing, so I decided to check out the website to learn more about this company and their product.

Continue reading or watch the video above to see what I learned in my Trust Evaluation of cocofloss.com.
Trust Evaluation for cocofloss.com
Company Snapshot
Cocofloss
Dental hygiene products
Founded in 2021
Off-page elements
Off-Page Scorecard
5 points
Domain
SSL
Metadata
Responsive design
Modern design
Before beginning the customer journey, I took a look at some of the elements that are outside of the main screen, but are still important trust indicators. First and foremost, I noticed that the site's domain used the business name and a .com suffix, which is one that consumers are most familiar with and generally trust the most. There were no issues with typos or odd characters in the name, so I didn't have any suspicions that I arrived at a phishing site.
The next thing I looked for was an SSL certificate, which I found by looking at the padlock icon in the browser bar. This tells me that if I was to input my information on the site, it would be transmitted safely with encryption.
I also looked at the site metadata, which was clear and appropriate for this business, along with the site design and responsiveness, which were executed well and made the products really shine.
Floating elements
Floating Scorecard
3 points
Live chat
Reviews badge
Security badge
Payment badge
Guarantee badge
Shipping badge
Endorsement badge
Floating elements allow sites to show visitors that they've arrived at a legitimate site from their very first page visit, no matter which page that happens to be. Cocofloss has a floating help widget in the bottom right corner of their site, which allows visitors to ask a question and get an email reply. They also have a floating reviews widget on the left edge of the screen that is powered by Yotpo. Clicking the widget opens a modal that displays the site's 5-star rating, along with verified customer reviews.
Site header
Header Scorecard
2 points
Phone number
Email
Address
High res logo
Account login
About us
Contact us
Having a good header is key in the trust-building process. New visitors look here to figure out how to navigate the site and find important business information. I gave Cocofloss 2 points for having a high-resolution logo and a link for customers to log in to their account. I did wish that more contact information was included here. Displaying a phone number, email address, or contact us page link would help to show customers that real people are standing by behind the scenes to assist customers when needed.
Site footer
Footer scorecard
7 points
Phone
Email
Address
Copyright
Sitemap
Terms and conditions
Privacy policy
Security badge
Payment badge
Guarantee badge
Shipping badge
Endorsement badge
Social media icons
The site footer is another important place to display business information since some consumers will look here to learn more about a site. Cocofloss includes their business phone number, operating hours, and email address so that customers know how and when they can get support. They also include their terms and conditions, privacy policy, and links to their social media accounts. I noticed that two of the social media links were pointing to Shopify accounts, likely left over from a template. Always ensure to double-check small details like this so customers don't run into any unexpected surprises.
Homepage
Homepage Scorecard
4 points
Product categories
Reviews
Testimonials
Social media posts
Social notifications
Customer logos
Press and media logos
Cobranded logos
Industry awards
Security badge
Payment badge
Guarantee badge
Shipping badge
Endorsement badge
Cocofloss has a super fun, colorful homepage. They earned 4 points by having logical product categories, testimonials from previous customers, and logos of press outlets where they've been featured.
Category page
Category Page Scorecard
2 points
Star Ratings
Shipping/returns note
Prices
Support widget
Sort/Filter
Security badge
Payment badge
Guarantee badge
Shipping badge
Endorsement badge
The category page earned the site 2 points by having a sort feature and clearly displaying the product prices. One simple way to build trust further would be to include individual star ratings beneath each product photo so that customers don't have to click through to each product page to see how they are rated.
Product page
Product Page Scorecard
6 points
Price
Star rating
Reviews
Expected delivery
Product description
Product specifications
Q+A
Security badge
Payment badge
Guarantee badge
Shipping badge
Endorsement badge
The product page I looked at did a great job at providing the little details that customers need to know before making a purchase. They displayed the product's star rating, verified customer reviews, price, and a refund guarantee. My one suggestion would be for Cocofloss to consider adding a Q&A or FAQ section to address specific questions that are commonly asked.
About page
About Page Scorecard
3 points
Company background
Location
Leadership team
Staff profiles
Company certifications
Company values
Security badge
Payment badge
Guarantee badge
Shipping badge
Endorsement badge
Customer logos
Press and media logos
Cobranded logos
The Our Story page did a nice job of explaining the company's values and leadership team, but it could definitely be improved with a few more details like the company's physical location and the year it was founded. I really enjoyed the "Meet the Cu Sisters" section on the homepage because it did a nice job of explaining how the company got started. I would suggest bringing some more of this detail to the Our Story page. And since one of the sisters is a dentist herself, I would suggest talking about some of her official degrees and certifications as well.
Contact us page
Contact Us Page Scorecard
0 points
Phone
Email
Address
Live chat
Contact form
Hours of operation
FAQ
Unfortunately, I did not find a Contact Us page on the site, but they did have some information at the bottom of the Our Story page and in the footer. However, having a dedicated page for contact information is important because it's not necessarily intuitive for a customer to look for it on the Our Story page, and may overlook the footer.
Login and register pages
Login and Register Scorecard
2 points
Third-party sign in
Forgot password link
Terms and conditions
Privacy policy
Create account
Account benefits
The site earned 2 points for having a forgot password link and a link to create a new account on the sign in page. To help customers feel more secure on these pages, it would help to help to include a link to the privacy policy and information explaining the benefits of creating an account on the site.
Shopping cart page
Shopping Cart Scorecard
5 points
Order summary
Order total
Price breakdown
Promo code field
Third-party checkout
Product quantity
Remove product
Save for later
Expected delivery
Security badge
Payment badge
Guarantee badge
Shipping badge
Endorsement badge
I had an interesting experience accessing the shopping cart. After adding a product to the cart, I clicked Cart in the site header and a sidebar window opened displaying my order details. However, when I clicked Checkout button, I was taken to a dedicated Shopping Cart page when I was expecting to be taken directly to the checkout. I'd definitely recommend that Cocofloss reconsider this sequence and cut out the middle step. I gave them 5 points for having the product quantity, price breakdown, a remove product button, order summary, and a note about shipping.
Checkout page
Checkout Scorecard
8 points
Order summary
Order total
Shipping cost
Tax
Estimated delivery
Secure payment field
Order review
Terms and conditions
Security badge
Payment badge
Guarantee badge
Shipping badge
Endorsement badge
The site earned 7 points for the checkout having things like order total, order summary, terms and conditions, and payment badges. The main missing element was shipping time and expected delivery date. I always like to know when I can expect to receive my product before I order it. I did find the standard shipping times on a separate FAQ page, but it's important to include this info right at the moment in the customer journey where they are thinking about it.
Bonus points
Bonus Scorecard
4 points
FAQ
Recent blog posts
High quality blog posts
Social media followers
I gave the site 4 bonus points for having an FAQ section, a blog with recent and quality content, and a significant follower count on social media.
Wrapping up
100+ Trustworthy!
50-99 Likely Safe
0-49 Questionable
Cocofloss earned a total of 51 points, which puts them in our Likely Safe category. Sites in this category show strong signs of trust, but we alway recommend that customers do their own research before making a purchase so that they feel totally comfortable.
They could easily earn a few more points by adding a few things like a contact us page, including their phone number or email address in the header, and adding third-party trust badges to show that an outside organization vouches for them.
Considering I've thoroughly checked out the site and the business, I would feel comfortable making a purchase from Cocofloss. Best of luck to the Cocofloss team as they continue to build trust and grow their business!
I hope this evaluation gave you a better idea of the trust signals that online shoppers look for as they progress through the customer journey. If you need any advice on adding trust signals, or would like us to give your site a trust evaluation, get in touch!