10 Shopify Apps to increase conversions this holiday season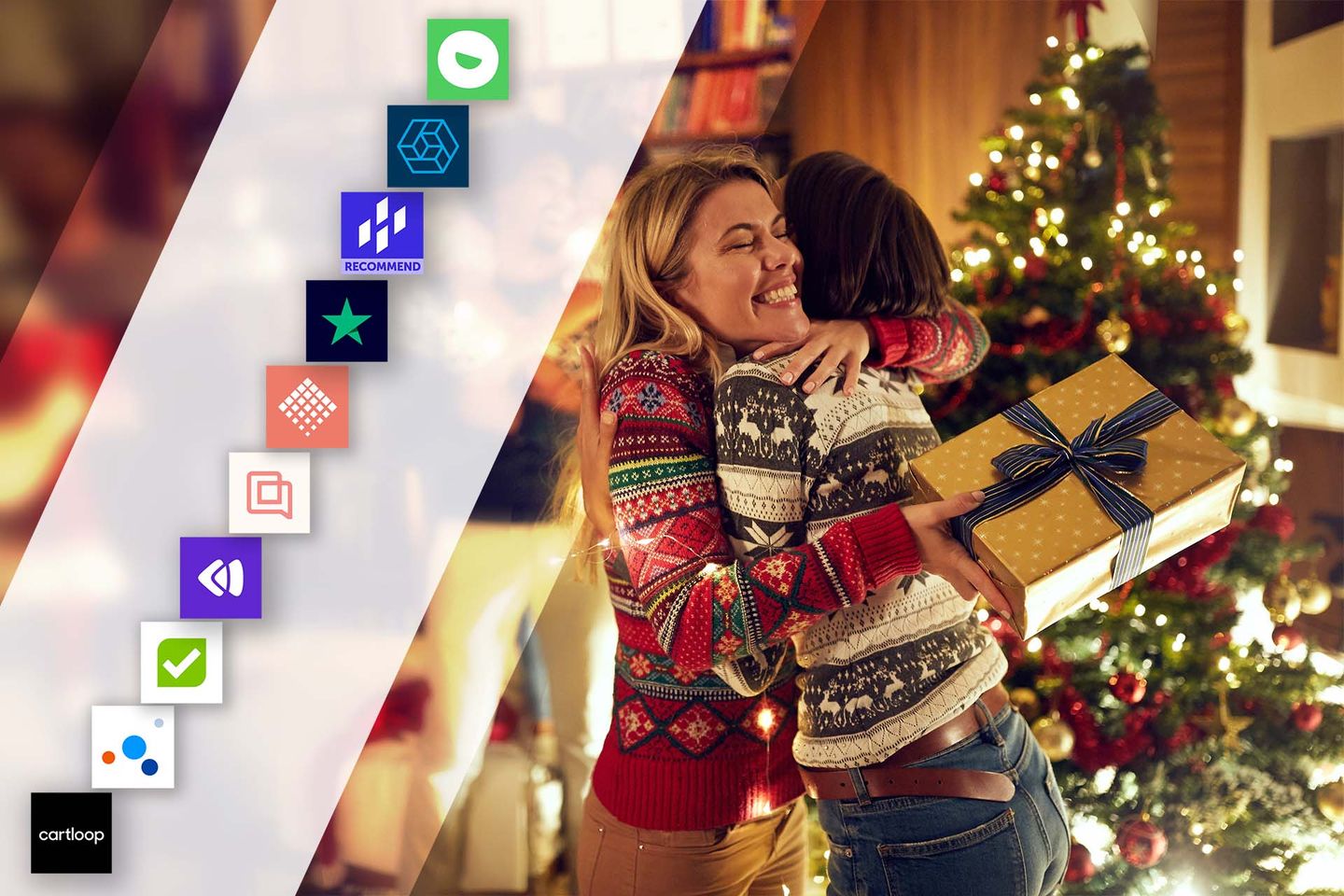 Last holiday season, US ecommerce sales soared amidst the height of the pandemic and stay-at-home orders. Since then, we've made significant progress in slowing the spread of the coronavirus in some areas, but many consumers will opt to continue online shopping in 2021. Experts predict that ecommerce sales will topple $206.88 billion this year, accounting for a record 18.9% of total holiday season retail sales.
For Shopify stores, this presents a huge opportunity to capture holiday traffic and grow sales significantly. But it won't be easy. Competition will be fierce, so you need to really bring your A-game.
If you haven't already begun preparing your store, it's time to start now! To help you create a seamless customer experience and maximize conversions, we've curated this list of essential Shopify apps to install ahead of the holiday season. Each app we've recommended comes with a special offer, so check them out and install today!
Get ready for Black Friday Cyber Monday with these essential Shopify apps
1. HiConversion Recommend
Product recommendations are proven to increase conversions and AOV. HiConversion has teamed up with Amazon Personalize to create personalized product recommendations with machine learning technology. With HiConversion Recommend, merchants can recommend products that are more relevant to the majority of their visitors. Enabling this type of tool prior to the holiday rush can help generate even more sales all season long.

Install HiConversion Recommend for free in the Shopify App Store
2. Trustpilot Reviews
As many as 95% of shoppers read reviews before making a purchasing decision, so including social proof on your site during the holiday season is key to building trust and increasing conversions. Using a third-party reviews app like Trustpilot can help you automatically collect authentic reviews from your customers and can turn unsure shoppers into buyers. As an added bonus, if you're using TrustedSite, you can display the star rating you earn from Trustpilot in your certification modal. Learn more about the TrustedSite and Trustpilot integration.

Install Trustpilot Reviews for free in the Shopify app store
3. Rewind
With more consumer data available online than ever before, cybercriminals will be out on the prowl this holiday season. If you're not prepared, a data breach could cause major problems like extended downtime or accidental loss of code during the busiest shopping period of the year. Ecommerce platforms like Shopify do not provide full backups of your website, but thankfully solutions like Rewind Backups give you the power to recover lost data in just a few clicks with automated backups and effortless restores.
Start a 7-day free trial of Rewind Backups
4. Cartloop SMS Marketing
SMS marketing is one of the new and popular ways of communicating with your customers. Providing special offers and support through simple text messages helps you make a direct connection and build stronger relationships. With Cartloop, your team will have the ability to text customers in real-time, helping to increase conversions and recover more abandoned carts.

Start a 14-day free trial of Cartloop SMS Marketing
5. Signifyd Fraud Protection
Fraudulent chargebacks are an issue that many merchants face in the months immediately following the holidays. To reduce the risk of fraud and customer abuse, you can use solutions like Signifyd. Signifyd helps to block fraudulent purchases with enhanced fraud detection and protects against chargebacks in the event they occur.

Start a 14-day free trial of Signifyd Fraud Protection
6. Justuno Pop Ups
We're all used to seeing pop up banners on many sites. While these can sometimes be annoying, they can also be very effective if used properly. Justuno can help you create custom pop up banner campaigns targeted at specific audiences to help maximize conversions. Their suite of tools includes everything from analytics to A/B testing so you can optimize your site and get the most out of your efforts. During the holidays, you can utilize popups to alert visitors of special offers, gift guides, and more.

Install Justuno for free in the Shopify App Store
7. TrustedSite Certification
Consumer concerns about online shopping are at an all-time high, but adding trust badges to your Shopify store can help to increase customer confidence and boost conversions. TrustedSite offers a suite of certifications and trustmarks that address some of the most common concerns customers have when shopping online, from identity theft to business legitimacy. Adding TrustedSite trustmarks to your site ahead of the holidays can help ensure that shoppers visiting your site for the first time will feel comfortable completing a purchase.

Install TrustedSite Certification for free in the Shopify App Store
8. Usercentrics
GDPR requires online merchants to responsibly collect and store customer data. Displaying a cookie notice banner helps you meet that requirement and build trust with visitors, especially when you use professional and transparent messaging to get proper consent from your visitors. The Usercentrics Consent Management Platform ensures that site visitors have opted in before any tracking scripts or code are loaded, helping you build trust, secure your data, and decrease legal risks.

Start a 30-day free trial of Usercentrics
9. Gorgias
50% of U.S. consumers have abandoned a purchase due to a poor service experience. In order to provide reliable and efficient customer support, you need a help desk tool your team can rely on. The Gorgias Live Chat and Helpdesk has become increasingly popular among Shopify and Shopify Plus merchants. This tool integrates seamlessly with your online store and can cut your customer support time in half, helping to increase conversions and revenue.

Start a 7-day free trial of Gorgias
10. PageFly Landing Page Builder
Adding new pages to your online store can be tedious and overwhelming. With PageFly's page builder, you can quickly and easily build out almost any type of page you need (about us, product pages, collections, blogs, FAQs, and more). This holiday season, if you want to create a landing page featuring a gift guide, PageFly can help with that. They offer impressive page templates that you can use as a starting point and have tons of tips and tricks on how to create high-converting pages on your site.

Install PageFly Landing Page Builder for free in the Shopify App Store
Looking ahead
This holiday season, don't get left behind in the hustle and bustle. Start preparing your Shopify store now to create the best shopping experience for your customers. With these 10 Shopify apps, you'll be sure to increase conversions during the biggest sales period of the year!