What's new with TrustedSite Security | September 2021 Release Notes
In September, we made updates to TrustedSite Security that make it easier for your whole team to get involved in your security efforts.
Show leadership the progress you've made with the new Executive Summary report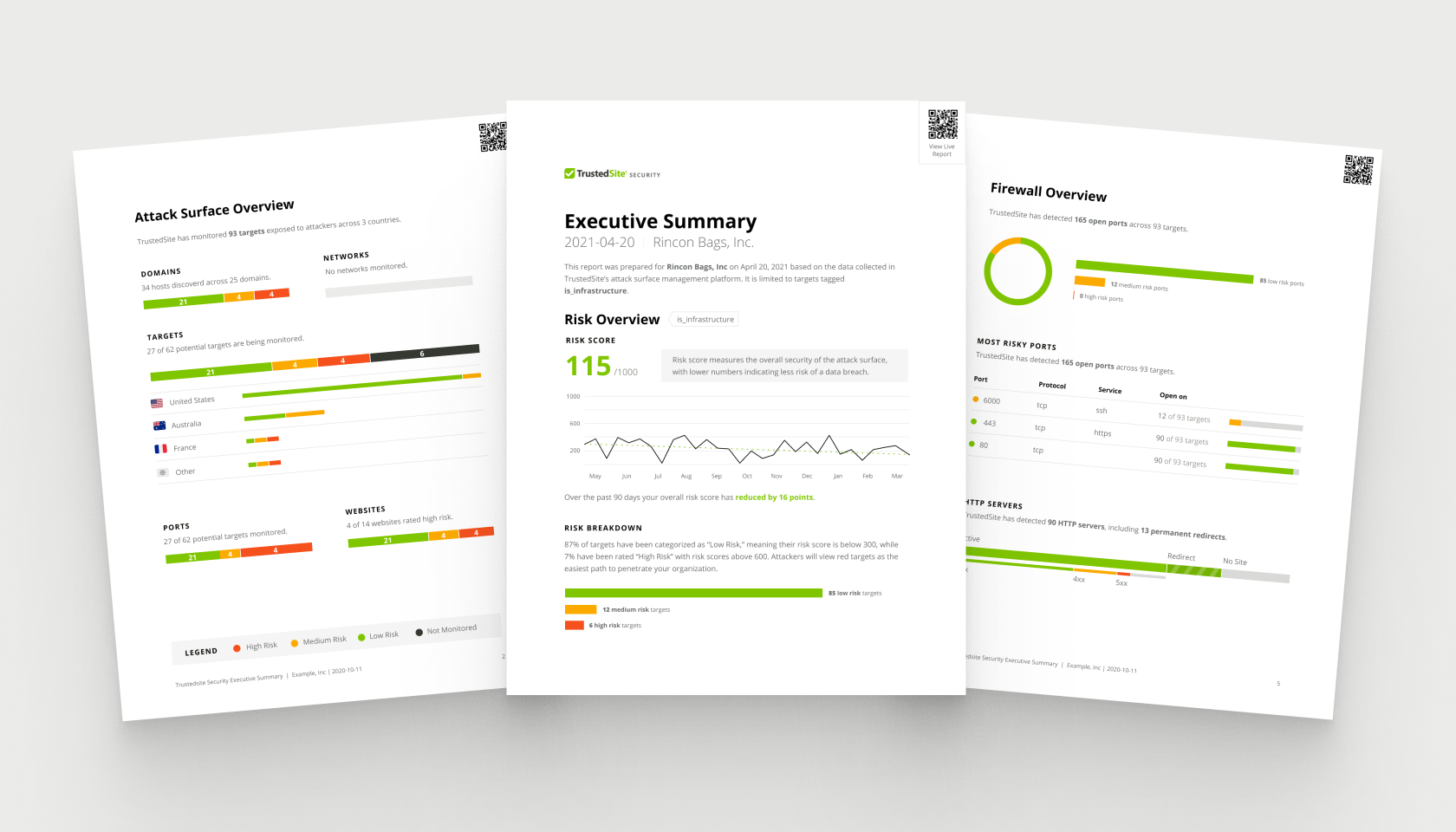 Being able to show leadership the progress you've made in reducing threats to your organization is important for proving the value of your TrustedSite services.
To make this easier, we've released our new Executive Summary report. This report highlights the overall security posture of your organization's attack surface, changes to your risk score over the previous 90 days, and much more including:
Risk Overview
Attack Surface Overview
Firewall Overview
Website Overview
Vulnerability Overview
Penetration Testing History
PCI Compliance Status
Target Summary
Download the Executive Summary as a PDF from the Reports section of your account.
Manage risk items with status and assigned user controls
We added the ability to assign a status to risk items so that you and your team can more easily keep track of the issues you're actively working on. Assign a status to a risk item from the Risk List section by clicking on the status icon and then selecting Open, Investigating, Confirmed, or Fixing. From here you can also assign the risk item to a specific user in your account, as you have previously been able to do with vulnerabilities.
Discover more connected domains
We made it easier to add additional domains to your account by creating a new Add Domains page in the Discovery section. Any domains you add here will feed into domain discovery, helping you find more related and connected domains in your organization.
Bring more of your team on board with additional user roles
The User Roles feature is now out of beta, and we made some updates to help you get more of your team involved in your TrustedSite account. The new Marketing role was added which restricts the user to only the Certification, Breach Insurance, Search Submission, and Diagnostics services, and prevents them from viewing or editing any TrustedSite Security services. Our new User Roles page clearly indicates what permissions each type of user has.

Questions about these updates? Want to suggest a new feature? Reach out to your account rep to let them know!