Comparing concerns of new vs returning visitors on ecommerce sites
If you've spent any time trying to optimize conversion rates on your ecommerce site, you've probably found that it's much more difficult to convert new visitors than returning ones.
Barilliance studied over a billion ecommerce sessions and found that on average returning visitors convert about 74% more often than first-time visitors and spend 16% more per transaction.
With nearly half of consumers citing a lack of trust as their main concern with online shopping, we wanted to find out what causes this distrust and how it influences their decision to make a purchase. To do so, we surveyed over 600 consumers in the United States using SurveyMonkey.
Our findings show that a majority of consumers are concerned about providing personal information when shopping online in general, with 87% of survey respondents reporting this concern.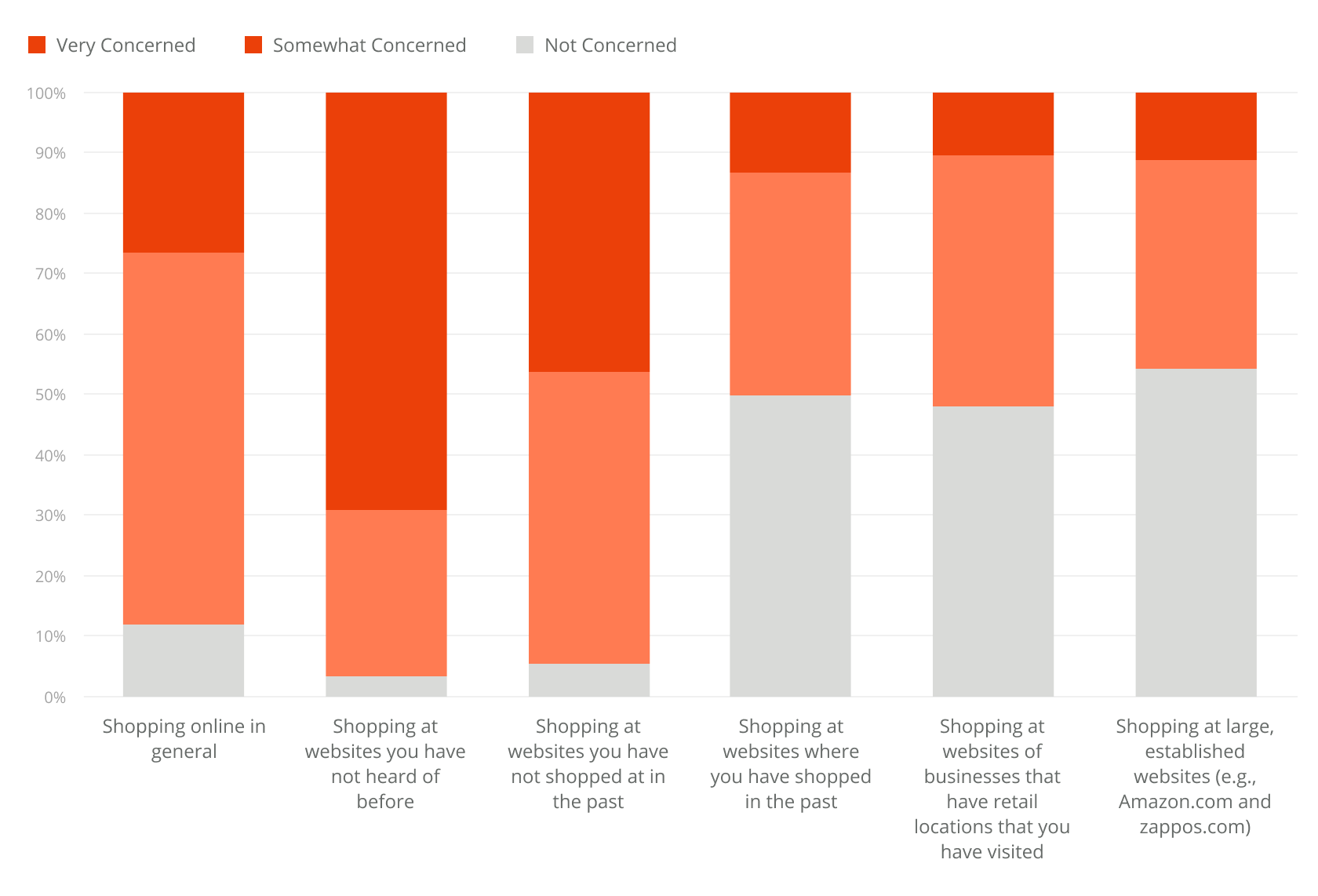 Let's dive deeper into how trust shifts with varying degrees of site familiarity.
New visitors have the least trust
Consumers are most worried about providing personal information on sites they haven't heard of before (94%) and sites they haven't shopped at in the past (92%).
It's easy to understand why new visitors have these concerns when you think about the ecommerce experience in comparison to a typical retail shopping experience. When you walk into a store you've never been to before, you can see other people shopping around you. You can physically inspect the products you want to purchase. You can speak face to face with a store associate if you have a question.
When consumers visit an ecommerce store, they don't have these same trust-building advantages that give them the confidence to make a purchase. Without preexisting knowledge or previous experience with a site, consumers can't be certain that the business is legitimate. As a result of this uncertainty, about 50% of consumers say they have abandoned a purchase.
Returning visitors can still have concerns
Though fewer consumers are worried about sites they have shopped at in the past and sites that have retail locations they've visited, about half of them still retain concerns in these cases.
Just because a shopper has visited or made a purchase on a site before, it doesn't mean that their concerns automatically fade away. Even after making a purchase, about 50% of consumers worry that their credit card information could be stolen. A stolen credit card could mean detrimental financial loss, so it's not surprising that nearly 45% of consumers have abandoned a purchase to prevent this from happening.
Even the biggest brands have issues
Consumers aren't totally confident shopping at the most well-known sites like Amazon, with 45% still holding concerns about these kinds of sites. This could stem from the fact that hundreds of major brands experience data breaches each year. Consumers realize that no site is immune from the threat of cyber criminals and are cautious about sharing their data with all sites, no matter how strong their reputation might be.
Addressing trust-inhibiting concerns
Fortunately, there are ways to alleviate concerns and build trust among both new and returning visitors. TrustedSite certified sites can show visitors their site is a safe one by displaying the TrustedSite certifications they've earned throughout the buyer's journey. Sites like Mountain House and Holabird Sports have all seen increased conversions as a result of adding TrustedSite trustmarks to their sites.
To learn more about how concerns shift throughout the buyer's journey, download our free ebook: Consumer Trust Across the Ecommerce Funnel.