How to earn the TrustedSite Certified Secure certification and alleviate ecommerce security concerns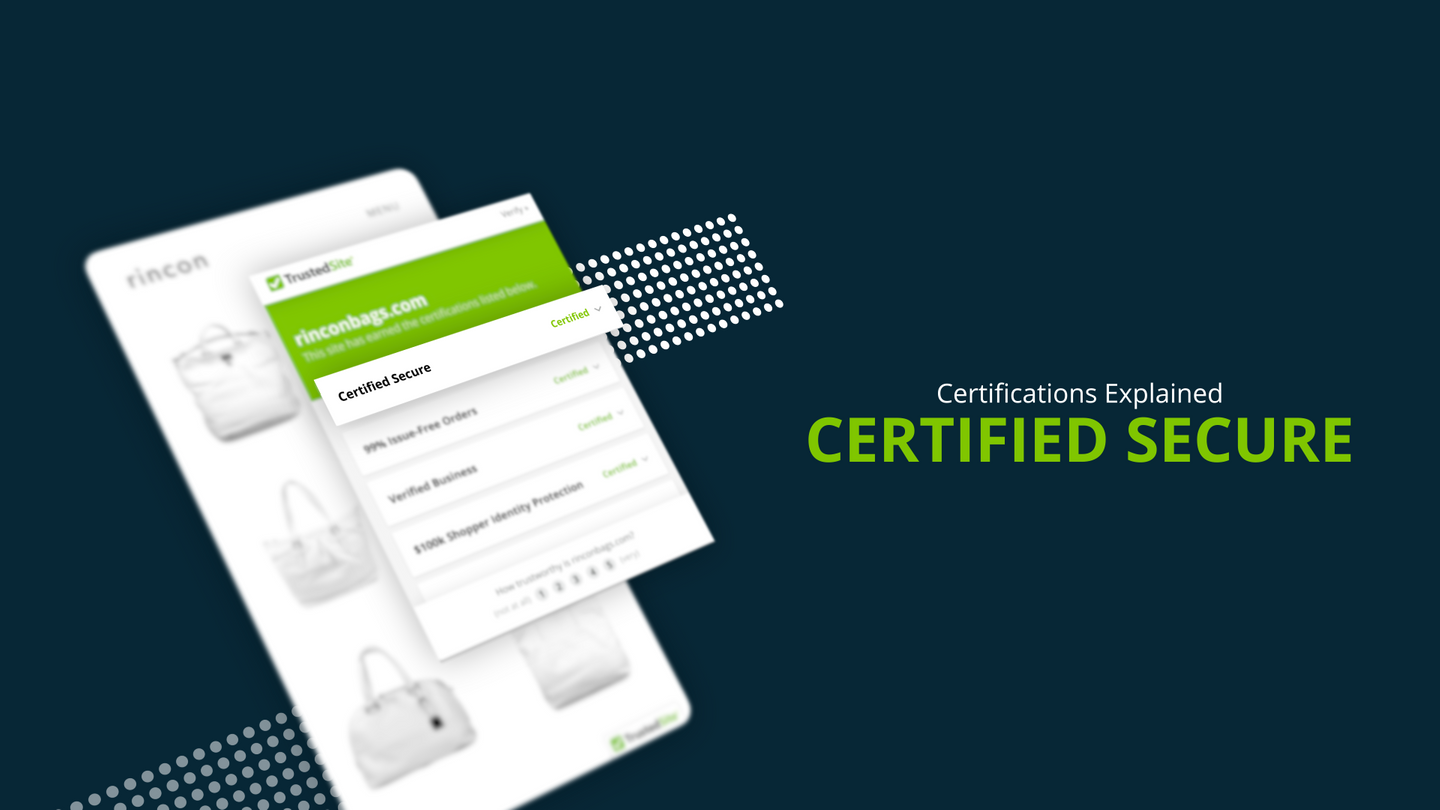 With new suspicious links creeping into our inboxes every day, consumers are becoming more and more discerning when shopping online. If a shopper doesn't find trust-building signals within seconds of their arrival to a site, they may decide to take their business elsewhere. In fact, nearly half of users don't make it past the first page when visiting ecommerce sites.
To get a better understanding of what can cause visitors to abandon sites so quickly, we surveyed 600 US-based consumers about their concerns when first arriving at an unfamiliar site. The survey findings showed that 34% of consumers question whether or not the unfamiliar site masks a phishing scheme, and 40% have concerns about the site infecting their device with viruses and malware.
Consumers don't want to browse a site that could potentially compromise their device or personal information, let alone make a purchase from one. This poses a challenge to those of you operating an ecommerce business–how can you communicate that your site is safe before visitors get cold feet and leave?
The TrustedSite Certified Secure certification was created to help solve this very problem. When sites earn the certification and display the TrustedSite floating trustmark, visitors can not only see that they've arrived at a safe site, but learn that a third-party has verified and regularly monitors the site's security. And since the floating trustmark is designed to be displayed across every page, visitors can see it no matter which page they land on first.

Certification Snapshot
Certified Secure
What it does
Addresses visitor concerns about malware, viruses, and phishing by showing the site is regularly monitored for security issues by a third-party.
How to earn it
To get TrustedSite's Certified Secure certification for your site, sign up for a TrustedSite free or pro plan and pass a weekly security scan.
Where to display it
Place the floating trustmark in the bottom right corner of all pages
Add the Certified Secure engagement trustmark to the site footer
Use the banner trustmark on product, shopping cart, and checkout pages
Your certification modal and page will show that your site has earned this certification
To get the Certified Secure certification, sites must earn it by meeting certain requirements. First, sites must sign up for a TrustedSite account. Once registered, sites must then pass an initial scan that checks for security issues. The site will pass the scan if:
No malware or malicious links are found
The site is not Google blacklisted
The site is not a phishing site
The site is not an attack site
The site is not a compromised site
After the initial scan, sites must pass a weekly security scan to maintain the Certified Secure certification.
Sites that have earned the Certified Secure certification have several options to display their secure status.
As mentioned above, the floating trustmark can be used to establish trust right off the bat by embedding it across every page of the site. Upon loading, the trustmark is fully expanded to display the TrustedSite logo and the words "Certified Secure," a statement that 61% of consumers said would increase their likelihood of making a purchase on a site if verified by a third party. After a short delay, the trustmark will collapse to display only the TrustedSite logo.
The floating trustmark will display in the bottom right corner of the page by default, but sites with a TrustedSite Pro plan also have options to position the trustmark in the bottom left corner and horizontally offset it from the edge of the page. The floating trustmark is visible to visitors on all devices including mobile and tablet users.
TrustedSite Pro sites can also display the Certified Secure engagement trustmark and the banner trustmark. The Certified Secure engagement trustmark is visually identical to the floating trustmark but does not collapse. We recommend placing it in your site footer as this is where 30% of consumers say they search for information about a site's security policies and practices.
The banner trustmark can be placed in a few different locations depending on your site's design and your goals for the trustmark. In addition to displaying your Certified Secure certification, the banner trustmark will also display the other TrustedSite certifications your site has earned. We recommend that you experiment with placements on product pages, the shopping cart page, and checkout pages to see where the trustmark performs best on your site.
No matter which trustmarks you choose to display and where you display them, visitors will be able to click the trustmarks to open your certification modal and read additional information about your certifications. If they want to learn more about TrustedSite, they can click through to the certification page.
Earning the Certified Secure certification and displaying it across your site is the first step to building visitor trust and boosting sales with TrustedSite. Stay tuned to learn how to build trust even further with our upcoming blog series: TrustedSite Certifications Explained.