How to earn the TrustedSite Verified Business certification and show your site is a reliable seller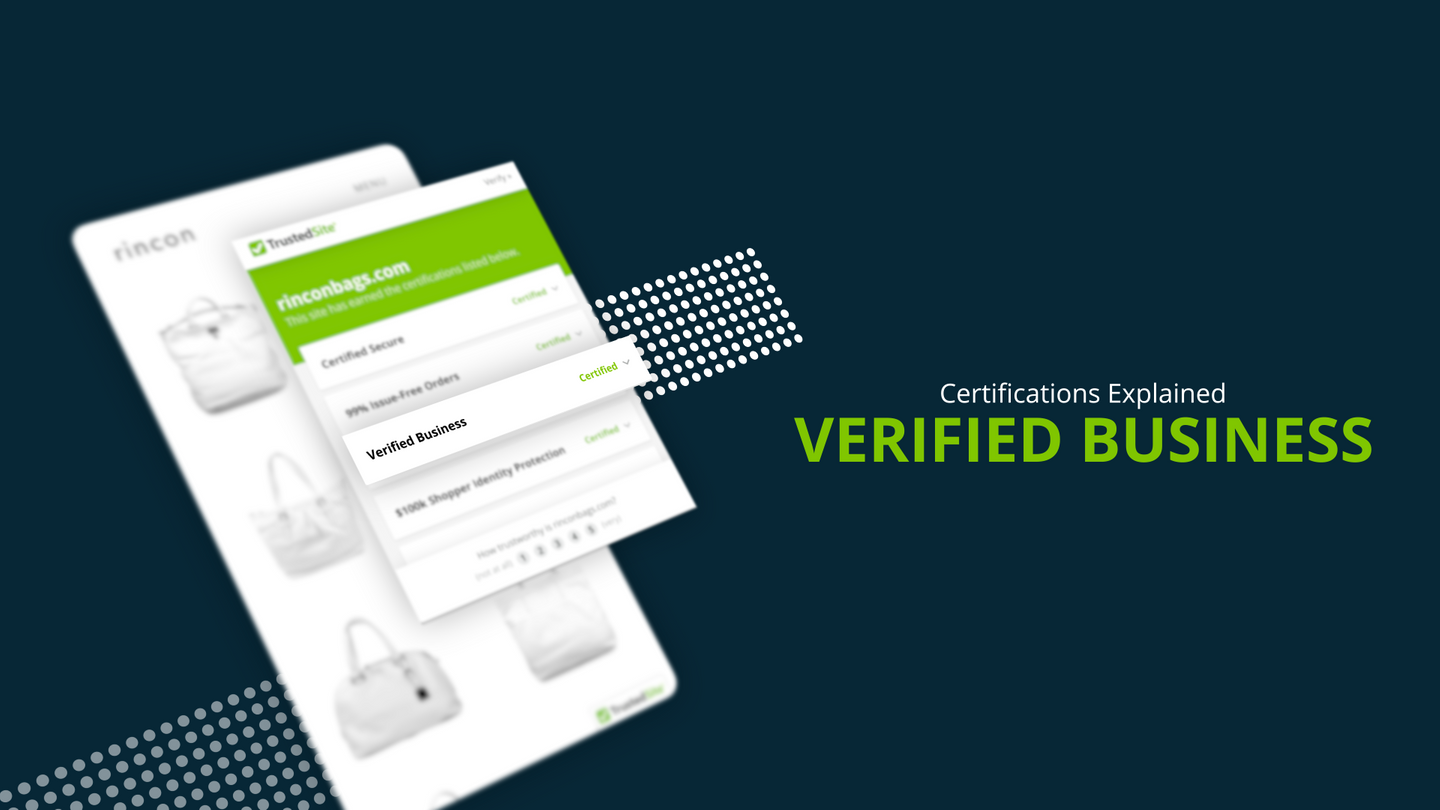 In 2019 alone, the FBI's Internet Crime Complaint Center received 467,361 complaints and recorded more than $3.5 billion in losses to individual and business victims.
Now in 2020, cyber criminal activity is not only becoming more widespread, but tactics are becoming more diversified as well. For instance, the FBI has already reported multiple instances of business scams hoping to capitalize on current events such as the coronavirus pandemic and high profile data breaches.
It's becoming harder and harder even for well-informed consumers to identify which online businesses are real and which are fake. Unfortunately for legitimate ecommerce businesses, this fear of business scams has led over 50% of consumers to abandon a purchase according to our recent survey of 600 US-based shoppers.
In the same survey, we asked consumers what specifically leads them to suspect that a business might be fraudulent. Over 50% of consumers said that missing contact information sparks this concern, and 49% said that a lack of third party trust indicators (like certifications, badges, or logos) does as well.

TrustedSite's certification system was created to help ecommerce businesses remediate these issues in several ways. When sites first earn the Certified Secure certification, they become able to display TrustedSite trustmarks, including the floating trustmark. With the ability to see and click the floating trustmark on any page and from any device, visitors are able to open the site's certification modal at any point in the buyer's journey.
Once a site has earned the Verified Business certification, the certification modal will display the site's contact information. This gives visitors easy access to the business's phone number, email, and address on every page, and also provides reassurance that business is legitimate since the contact information has been validated by TrustedSite.

Certification Snapshot
Verified Business
What it does
Addresses concerns about business scams by showing visitors that they're dealing with a legitimate business that has provided verified contact information.
How to earn it
To get TrustedSite's Verified Business certification for your site sign up for a TrustedSite free or pro plan and have at least 2 types of contact information verified.
Where to display it
Use the banner trustmark on product, shopping cart, and checkout pages
Verified contact information displays on the site's certification modal and page
To earn the Verified Business certification, sites must meet certain requirements. First, sites must sign up for a TrustedSite account. Once registered, sites must then have at least 2 types of contact information verified by TrustedSite, though we recommend that sites have all of the following verified: business phone number, email address, physical address, and TrustedSite contact form.
Here's how we verify your contact information:
Email address
We'll send a link to the email address you want to be displayed publicly. Once you click that link, we can verify that you receive email at that location.
Phone
We'll attempt to call or text the phone number you provide with a confirmation code. Once you input that code into your TrustedSite dashboard, we can verify that you receive calls and/or texts to that phone number.
Address
We'll send a postcard containing a unique code to the address you provide. Once you input that code into your TrustedSite dashboard, we can verify that you receive mail at that address.
TrustedSite Verified Contact Form
Using a verified email that you have selected, we automatically build a form on trustedsite.com that will send submissions to that email. Your visitors can access the form via your certification modal if you choose to enable it. The email address that receives the form submissions will not be displayed publicly.
For further instructions on how to get your contact information verified, please visit our help center.
The banner trustmark adjusts to the width of its container to display multiple certifications a site has earned.
Sites can show visitors that they've earned the Verified Business certification by displaying the banner trustmark in key areas of the buyer's journey. The banner trustmark displays the Verified Business certification alongside the other certifications your site has earned so that you can address multiple visitor concerns in a single trustmark. The number of certifications that are displayed within the banner will depend upon the width of its container.




The banner trustmark can be placed in a few different places on your site depending upon the design and your goals for the trustmark. We recommend that you experiment with placements on product pages, the shopping cart page, and checkout pages to see where the banner trustmark performs best on your site.


From the site's certification modal, visitors can and easily find verified contact information and submit an inquiry through the contact form.


When visitors click the banner trustmark or other TrustedSite trustmarks and find your verified contact information, any concerns about the legitimacy of your business will be put at ease, and they can make purchases from your site confidently.  

Earning the Verified Business certification is one positive step towards building visitor trust and boosting sales with TrustedSite. Learn how to build trust further with our other certifications in the TrustedSite Certifications Explained blog series.